Elevation: 9,386 ft
Prominence: 4,086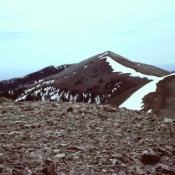 Climbing and access information for this peak is found on page 351. Margo Mandella provides a West Ridge approach, and Livingston Douglas provides his recent Southeast Ridge approach that includes valuable updated access information.
The book used an elevation of 9,385 feet based on an older 15-minute quadrangle. The newer 7.5-minute quad lists the elevation as 9,386 feet. This difference is important because it means that this peak is arguably (but not positively) the highest point in the Black Pine Mountains. This issue is discussed in more detail on the Black Peak a.k.a. Black Benchmark page. Updated November 2018
---
This officially named peak is either the highest or the second highest point in the Black Pine Mountains. The most recent USGS quad appears to give the highest point honors to this summit. The benchmark that resides on the point 1.25 miles to the north, known as Black Peak or Black Benchmark (BM), list that point's elevation as 9,385 feet. I suspect the margin of error for both elevations is greater than 1 foot, so climb both if your goal is to climb the highest point in the range.
Use this link to read about the classic Black Pine Mountains Traverse
---
West Ridge, Class 2, by Margo Mandella
If you are not put off by steady, steep Class 2, then this might be the route for you. The West Ridge route takes you toward the midpoint of the summit ridge between Black Pine Peak and Black Benchmark.
Access
Access the peak from Highway 81, south of Malta, Idaho. From Highway 81, take 6 Mile Road east and continue on it as it heads toward the Black Pine Mountains. The road turns south (straight is Gunnell Road) and intersects with National Forest System (NFS) Road 773. Travel east and when you reach a 3-way intersection, turn left (north) to stay on NFS-773. At the road's intersection again with Gunnell Road, turn right (east). You have basically driven around private property that Gunnell Road passes by. (That said, NFS-773 also travels through a section of private property. Remember, it never hurts to call the Sawtooth National Forest, Minidoka Ranger District, to verify access and road conditions for this peak before heading out. Trespassing in Idaho has big consequences [as of 2018]).
Continue on NFS-773 as it heads into Sixmile Canyon. Pass Sixmile Reservoir on your right and drive to the road's end staying to the left of any fork you pass. We found these roads rugged and passable in an SUV. However, we concluded that if the roads were muddy it might not be possible to get far into the canyon.
Route
From where you park, you can backtrack a little and ascend west toward point 6627, or you can continue from the end of the canyon to ascend a steep ridge that heads eastward to highpoint 9254 (which we did). As you near the summit ridge, and highpoint 9254, decide which peak to bag first, Black Pine Peak or Black Benchmark (an unranked peak) and then tag the other, assuring you've hit the highpoint of the Black Mountain Range.
---
2018 Update by Livingston Douglas 
Date of Climb:  September 26, 2018
Updates/corrections to the text: Forest Service Trail (FST)-018 [(A)(1.1)(a)] is now FST-833. The USGS topo map and the Sawtooth National Forest/Minikoda Ranger District map both show FST-833 still in existence (FST-018 on the USGS topo map). But I saw no signs of any trail coming out of Pole Canyon and crossing Pole Canyon Pass (7,980 feet). I also saw no trail descending southward from the pass to curl around to the South Slopes of War Eagle Peak that are referred to in the book. Does FST-018/FST-833 still exist? I doubt it.
Due to increasingly hostile landowners in the Black Pine Mountains area (as per a discussion I had with the National Forest Service in Burley, ID), most of the access roads into the Black Pine Mountains are now closed to the public. Are the trails also disappearing due to lack of maintenance and use? I suspect that they are.
Southeast Ridge, Class 2
Access
Same as for the North Ridge of Peak 8376.
Route
This route is part of a ridge traverse from War Eagle Peak (8,716 feet) to Black Pine Peak (9,386 feet). The route begins at the 8,540-foot saddle at the base of the Southeast Ridge of Black Pine Peak. Follow the ridge crest as it heads west then northwest then north to the summit of Black Pine Peak. There is a faint trail (narrow and rocky) on or near the ridge crest, but sometimes it is so poor that it's less cumbersome to simply scramble up the open terrain on the ridge crest.
If you draw a straight line from the summit of Black Pine Peak to the 8,540-foot saddle, the direction is southeast, not south. The summit of Black Pine Peak has a repeater antenna (+ solar panel + aluminum storage shed) and a large cairn. The views of the west-side valleys are stunning, with two of the drainages having beautiful reservoirs/dams near the end of the forested terrain.
North Ridge, Class 2 (Descent)
Access
Same as for the North Ridge of Peak 8376.
Route
From the summit of Black Pine Peak, follow the ridge northward over three ridge humps to reach the final saddle below Black BM/Black Peak. This saddle is at 9,180 feet. The terrain on this ridge traverse is open with embedded talus/scree, short scrub, and a narrow/poor footpath on the ridge crest. A relatively easy stroll, at least on a non-windy day. I would not want to be up here on a day with a strong westerly wind or when thunderstorms are in the area.
Mountain Range: Black Pine Mountains
Longitude: -113.125037 Latitude: 42.120274
Photos: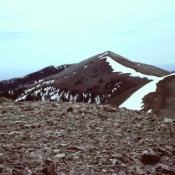 Share this post ...