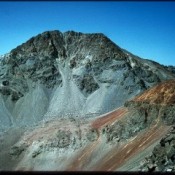 The Boulder Mountains are comprised of four major divides: The Northern Divide, the Sheep Divide, the East Fork Salmon/North Fork Big Lost Divide and the Boulder Front (covered below). The range is composed of granite, Challis Volcanic material and highly metamorphosed rocks that have been extensively shattered and faulted. These mountains encompass a wide variety of mountain shapes over a large swath of Idaho. Ryan Peak (11,714 feet) is the highest peak in the range. Additional information can be found in the book on Pages 231-243.
Traverses
Boulder Basin Peak, Silver Peak and Lorenzo Peak Traverse by Derek Percoski
Access Updates
Galena Lodge Area: Access in the northern section of the Boulder Front section of the range has seen improvement thanks to the cooperative work of Blaine County and the Forest Service. See this link for information on the Galena Lodge Trail system.
Boulder City Access [(A)(8) on Page 241]: Derek Percoski provided the following update on one the most technical driving access routes into the Boulder Mountains.  "A few years ago, I saw a beefy stock pickup truck or two at Boulder City, but my recommendation is that a 4×4 owner should not show up with the intention of driving all the way. ~8900 feet is a good stopping point, and from there it's a short hike to the crux to see if you want to attempt it. The crux can be described as an 18-inch shelf during the steepiest and rougest part of the road. If you're up there on a summer weekend and just drive until you get stuck, you might cause a traffic jam. I'll say it's for ATVs, modified off-road vehicles, and possibly 4x4s with extra high clearance."
---
THE NORTHERN DIVIDE
The northern Boulder Mountains vary significantly from the peaks bordering Ketchum. The country is wide open and contains many opportunities for cross-country travel.
---
THE BOULDER FRONT
---
THE EAST FORK SALMON/NORTH FORK BIG LOST DIVIDE
Mountain Range: Boulder Mountains
Share this post ...