Elevation: 4,629 ft
Prominence: 449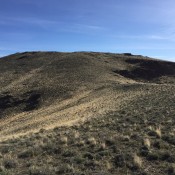 This peak is not in the book. Also see the Owyhee Mountains Peaks List for all of the peaks in this range. Updated April 2019
The access road described below was recently posted as a "PRIVATE ROAD." The road crosses about 50 feet of private property and then enters public lands. Check with the BLM before using the access road: +1 (208) 384-3300
Jason Floyd climbed the peak from east via the Coyote Grade Road. His route description is set out down the page. Updated January 2021
---
There are six Buck Mountains in Idaho and a total of 23 peaks that include the word "Buck" in their names. This Buck Mountain is situated on the west end of the Owyhee Mountains, just east of US-95. While not a towering summit, it is a worthy goal in the Spring with excellent access. The summit can be reached in just over 1.0 miles with 800 feet of elevation gain. USGS Jump Creek Canyon
Western Access
Just east of Marsing, Idaho, US-93 and ID-55 meet. Drive 13.5 miles south from this junction and turn left/east onto Squaw Creek Road. Please note that this road looks private since a nearby ranch has built an arch over the entrance. Follow the road up and east past Peak 4540 and then down to Squaw Creek. There is a big turn crossing a drainage just before you reach the private ranch. Park at this point.
Western Slopes, Class 2
Follow the road east to the cattle guard and then follow the fence line down to the creek, passing through a gate. Leave the gate as you find it. Once across the creek, a cattle trail follows the fence line up the hill. Stay south of the fence (and remember to stay off the private land). You will reach the peak's West Ridge, which you can climb over an intervening rocky point or contour into the drainage on your right. Either line will take you to the peak's broad summit. From the summit, you can walk the broad ridge line to Peak 4620 which has a nice, rugged summit block.
Eastern Access and Route by Jason Floyd
Access
To avoid Private Property issue currently plaguing the West Side Approach use the Coyote Grade Road. (Use the link for additional access information and a map.)
From  ID-78 about 5 1/2 miles east of Marsing turn Right on Clark Road .
At 3.0 Miles the road turns to dirt this is Coyote Grade Road. Reset your odometer and go 7 1/2 miles, keeping right at the powerlines a mile up the road and staying right at about 7 miles. I parked at the 7.5 mile marker where the road turned and there was a nice area to park. Note: This road must be dry or frozen or dry to be safely driven.
Peak 4620 and Buck Mountain, Class 3 and Class 2
I hiked up the road a short distance and angled southwest towards Peak 4620 (see the map below). The top of the peak is a nice class three climb with a few ways up and down. I left a Summit register on Peak 4620.
From Peak 4620 I headed West down climbing to the saddle and the easy slopes up to the broad ridgeline of Buck Mountain. Gaia app was showing the Peak to the west as the high point and List Of John was showing the Middle Peak as the High Point. I did both to be safe and the middle peak is 50 feet higher though I highly recommend climbing the west peak as well as it has amazing views. I did not see a summit register.
Mountain Range: Owyhee Mountains
Longitude: -116.87649 Latitude: 43.37901
Share this post ...