Elevation: 8,938 ft
Prominence: 3,438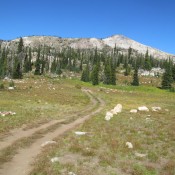 Climbing and access information for this peak is on Page 70 of the book. Thanks to Victor Zhou, this page contains an update on access as well as photos. Updated August 2017.
---
Buffalo Hump is a major summit in the Clearwater Mountains of Central Idaho. Though it is less than a hundred feet lower than the range's highpoint (Stripe Mountain), Buffalo Hump occupies a sweet spot in the center of the southern portion of the range, sitting between the Salmon River to the south and the South Fork the Clearwater River to the north. Its expansive views from within the middle of Idaho's eloquently named Gospel-Hump Wilderness bring to a reality the peak's massive prominence (over 3,400 feet), which makes it the most prominent peak in the Clearwaters. USGS Buffalo Hump
Access
Despite its remote status, a road leads the bravest of drivers to a church camp a little more than a mile and about 1,000 feet below the summit. Make your way to Grangeville east of town on ID-13 and take a right on the Mount Idaho Grade Road, a shortcut paved road that takes you over a divide and drops you into the narrow canyon of the South Fork Clearwater River. Turn onto ID-14 towards Elk City and follow it east approximately 34 slow and winding miles to the Crooked River Road. Follow this perfectly-graded gravel road, crossing the river and driving south then southwest 18.6 miles to Orogrande Summit, where there is a rather confusing junction with a jumble of intersections.
At this junction, take a side road that leaves right towards Wildhorse Lake, while the main road veers left to Hump Lake. It is 6 miles to Hump Lake, your base camp for the peak unless you want to risk driving farther. From the pass, you are looking at a 14-15 miles round trip to reach the summit.
Be warned: The road down from Orogrande summit is good for maybe the first half-mile, but as of Fall 2014, it deteriorates VERY quickly after that point. If you pass up a small parking spot on the left, you've essentially committed yourself to rolling down the steep and rocky road all the way down to Lake Creek. I managed to drive my 4Runner down and back up and, while I made it, I hated and despised every nail-biting minute of it.
South Ridge, Class 2
From the pass, the road drops from almost 7,300 feet down to 6,200 feet at Lake Creek, then gains 2,700 feet to the summit area. The rest of the road (from a wide parking section shortly after reaching Lake Creek) is only addressed from a walker's perspective. While it is good for a few sections, it is very rocky in most others. At the point where it ascends a steep headwall, it is nearly impassable. Other written account descriptions of this section range from "see-a-body-shop-if-you-make-it" to "you'd-be-lucky-to-hitch-a-ride-back-to-Grangeville." Only the combination of the most seasoned jeep drivers and vehicles should attempt it.
The road reaches the upper plateau at Hump Lake, where several modest-sized cabins greet you. Be sure to respect private property and follow the road as it bears left and approaches Buffalo Hump's South Ridge. You are close to the summit at this point. The terrain is open and self-explanatory. On my way up, I followed the road to its end, wandered through some woods and meadows to hit the ridge near its southeastern terminus. On my way down, I found a faint, on-again off-again, yet cairned trail that cut off partially down the ridge and descended through several gorgeous meadows to hit the road slightly closer to the cabins. Nothing worse than Class 2. Nice views of myriad lakes and one of Idaho's great wildernesses.
Mountain Range: Southern Clearwater Peaks
Longitude: -115.699228 Latitude: 45.620444
Share this post ...