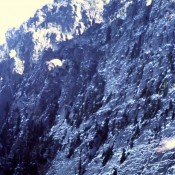 The Cabinet Mountains are covered in the book on pages 51 to 55.
---
The Cabinet Mountains share many similarities with the Purcell and Selkirk Mountains. The range's foundation is Precambrian Belt Supergroup rocks, which were carved and shaped by Pleistocene glaciation. Many peaks are high dome-shaped mountains, while a few, like Scotchman Peak, are sharp, sheer-edged summits reminiscent of the North Cascades. Summit elevations range between 6,000 and 7,000 feet; 7,009-foot Scotchman Peak is the highest Cabinet summit.
Use this link to view a list of all Cabinet Mountains peaks covered on this website: Cabinet Mountains peaks.
If you would like to help protect these beautiful mountains visit the Friends of the Scotchman Peaks website.
Mountain Range: Cabinet Mountains
Share this post ...