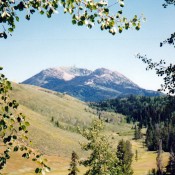 The Caribou Range encompasses an area more than 60 miles in length and 20 miles in width and reaches 9,805 feet on Caribou Mountain. The northern end of the range is composed of parallel ridges that rise and fall in wavelike succession, while the central portion of the range contains all of the major summits. The Caribou landscape is interspersed with rolling meadows, dense stands of pines and fir trees and compact quaking aspen groves.
The Caribou Mountains are covered in the book on pages 369 to 372. All summits covered on this website are found at the following link: Caribou Mountains Peaks
Mountain Range: Caribou Range
Share this post ...