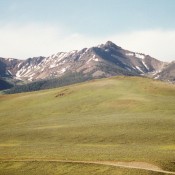 Climbing and access information for this peak is found on pages 256 and 257.
---
Copper Basin Knob is one of one of those peaks everyone says is on their list but few actually climb it. Rick Baugher climbed the peak from the north and reported Class 3 climbing on good rock. Many years ago a seasonal Forest Service employee reported a climb from the peak's east ridge, also Class 3. Climbing to the summit from the Lake Creek drainage will involve a tough talus slog. As the photos below demonstrate a traverse from Roundup Peak looks doable, at least to the summit block. Livingston Douglas provided the more detailed route description (below) than the one found in the book.
West Ridge Route, Class 3 by Livingston Douglas 
Date of Climb: 7/4/16. From a distance, Copper Basin Knob appears to be a Class 5 endeavor. I was so concerned about this possibility that I brought rock shoes and a haul rope just in case. The summit area is characterized by steep faces and summit towers. The Copper Basin Knob quadrangle suggests that the two summit towers are likely to be difficult to climb. How can this possibly be a Class 3 scramble? Well, it is. Here's how to do it.
Access
Lake Creek Trail [(C)(3)(d)].
Route
Hike up Lake Creek Trail/ATV Road for 2-1/4 miles to the base of an ill-defined gully that leads up to the ridge saddle between Copper Basin Knob and Point 10316. Copper Basin Knob and the ridge saddle west of it are both obvious from a clearing along the trail. Leave the trail here (8,480′) and bushwhack northeast through an easy combination of field grass and timber, skirting around blowdown as necessary.
Upon reaching a point where you are directly below the ridge saddle, scramble up the west side of the ill-defined gully. The gully is loose scree, despite sagebrush and trees (aspens mostly, some firs). Higher up in the gully, find a game trail on the east side of the gully and follow it up to the ridge saddle (10,020′). Scramble east up the Class 2 West Ridge, skirting the north side of the ridge crest early on to avoid a Class 3-4 ridge outcrop.
Continue climbing until the West Ridge dead-ends at the North Ridge. Turn right/south and drop 20 feet to a notch, skirting a ridge tower en route. Climb out of the notch southward on the ridge to reach the North Face of the summit block. This buttress is akin to a headwall. Climb the Class 3 ledges to reach the top of this block. Congratulations, you've reached the summit! No rock shoes or rope required. The view of Copper Basin from the summit is superb.
Mountain Range: Pioneer Mountains
First Ascent Information:
First Ascent Year:

1914

Season:

Summer

Route:

Unknown

Party:

T.M. Bannon
Longitude: -113.848668 Latitude: 43.754989
Share this post ...