Elevation: 10,225 ft
Prominence: 325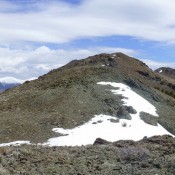 This peak is not in the book. Livingston Douglas contributed a new route and additional details to the existing northeast ridge route which he descended. Updated December 2020
---
Peak 10225 has been called "Roundup Peak" for some time. Thanks to the efforts of Dan Robbins, the name became official in July 2017. The name commemorates the annual cattle roundup that has taken place in Copper Basin for over 100 years. The peak is located on a connecting ridge northwest of Copper Basin Knob. Roundup Peak towers over the entrance to the north side of the Lake Creek drainage. From Lake Creek, the peak presents a wall of steep talus crowned by impressive broken towers. USGS Big Black Dome
East Ridge, Class 2 by Livingston Douglas
A
ccess
Same as for Peak 10316. This is the second leg of a two-peak journey that includes Peak 10316 and Roundup Peak. The adventure begins at the Lake Creek trailhead.
The
Climb
From the 9,900-foot connecting saddle with Peak 10316, follow the ridge crest northwest then west to Point 10008. The terrain is pretty easy with scattered trees on or near the ridge crest. From Point 10008, descend easy tundra to another saddle. Continue west up over a rocky hump (false summit). Scramble westward, descending 70 vertical feet to a final saddle. From there, climb a rocky face to reach the rocky summit of Roundup Peak
---
Northwest Ridge, Class 2
I recommend climbing the peak via its broad west ridge, which is easily accessed from the Copper Basin Loop Road. Park on the road at the base of the ridge as shown on the Google Earth Photo below. The ridge is a mix of forest and meadow that climbs steadily to tree line with only an occasional downed tree to block your way. Above tree line, the route continues with good footing to the summit. The following photo essay documents the route. Livingston Douglas' description of his descent down the route is found farther down the page.
---
Northwest Ridge
/West Face, 
Class 2 by Livingston Douglas 
The Descent
From the summit, follow the obvious ridge west (narrow and a bit rocky) then northwest in open terrain until reaching the forest. Stay a bit to the right/east of the ridge crest to remain on open ground. The ridge crest itself has twisted pines and blowdown on it. Avoid getting pulled right-ish/northeast into a forested gully or you will end up a long way from the Lake Creek trailhead. After passing a long stretch of wicked ridge towers on the left/southwest side of the ridge (for God's sake, don't get lured into one of those impossible west-facing gullies), leave the forested ridge at a point where you can see your way down to the Copper Basin Loop Road, just north of the turnoff for the Lake Creek Recreation Area and the Lake Creek trailhead.
Leave the ridge and descend west STEEPLY down a shoulder (which morphs into a face) through the forest to intercept the Copper Basin Loop Road. You can boot-ski some sections of steep, loose gravel/scree on this descent to the road. Follow the road left/south briefly to reach the turnoff for the Lake Creek Recreation Area. Follow the spur road south for 0.1 mile to the Lake Creek trailhead and your parked vehicle.
Mountain Range: Pioneer Mountains
Longitude: -113.87849 Latitude: 43.76529
Share this post ...