Elevation: 11,913 ft
Prominence: 814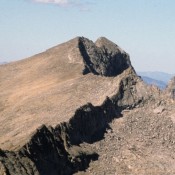 Climbing and access information for this peak is on Pages 245-246 of the book. Use this link to Pat McGrane's Wildhorse Classics Guide for information on the technical routes on this peak. 
---
This twin-summitted peak is found on the main Pioneer Mountain Crest and is most often climbed from the west. Farther down this page, you will find Ray Brooks' description of a 1971 ascent from the Wildhorse drainage to Florians Nudl and then to the summit of Goat Mountain. USGS Phi Kappa Mountain
---
Goat Peak from Wildhorse Canyon by Ray Brooks
I have dug out my old journals and found my memories of climbing Goat Peak in 1971. On July 6, 1971, Harry Bowron, Art Troutner and I hiked up the right fork of Wildhorse Canyon for about 3 miles and camped at a large meadow that was still mostly covered with snow from a large avalanche. We had the brand-new USGS topo of the area and some knowledge of the mountains from a Decker Flat Climbing & Frisbee Club 4th of July party and outing to the same area a year earlier.
Our first full day, we followed a valley up to Airplane Lake, which was still frozen solid, and then worked up towards a prominent peak northeast of the lake. For convenience, we named it Airplane Peak. After much snow-climbing, we reached a small headwall with a good crack system and climbed it without roping up.
Once we were on top of Airplane Peak (i.e., Florians Nudl), we could see our goal: twin summits with a broad ridge between them and Airplane Peak. We did not encounter any difficulties worth noting in reaching the southern summit, where we saw a broken wine bottle, but no summit cairn. Upon arrival at the slightly higher northern summit, we found no signs of man, so with unusual audacity we built a cairn and left a summit register proclaiming a first ascent of Kane Peak, under the auspices of the Decker Flat Climbing & Frisbee Club.
We had a great view of the Ketchum/Sun Valley area and could unfortunately hear the snarling of engines as the Porsche Club of America held a racing event at Sun Valley. Somewhat awed by the ability of civilization to annoy us in such a remote place, we retreated to the southern summit and then found a well hidden cairn & summit register that identified our mountain as Goat Peak. I entered the brazen advice that the further summit was the higher one & that the dozens of signers were mistaken in their choice. A note from the present: After a lifetime of being a good-person, I still marvel at that little piece of summit register cockiness.
Both Arrowhead Lake & Airplane Lake have been stocked with trout within the last five years. Our hike up to Arrowhead went from a large meadow on the Right Fork of Wildhorse Creek, up a prominent avalanche path and cross-country to the lake. I think most hikers just follow the creek up to it. There is no trail after the large meadow.
Mountain Range: Pioneer Mountains
Longitude: -114.142059 Latitude: 43.774184
Share this post ...