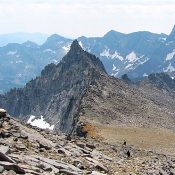 Florians Nudl is a formation on the South Ridge of Goat Mountain. Florians Nudl is named after Florian Haemmerle, one of the first European guides employed by the Sun Valley Company (see Page 18). Although Florian and other guides climbed it before World War II, route information was nonexistent or at least undiscoverable. Finally, we now have route information. Colorado climber Livingston Douglas has shared his beta on his 2009 climb. USGS Phi Kappa Mountain
---
Southwest Face, Class 5.4-5.5
Florians Nudl (i.e., discussed as the South Subsidiary Point on Goat Mountain) is referred to on Page 246 of the book (Goat Mountain, South Slopes Route). It is shown on the map on Page 247 of the book. It is unmarked on the USGS topo map and the NFS map.
Access
North Fork Hyndman Creek [(B)(2)(a.1) on Page 259].
Route
Once up on the south ridge of Goat Mountain, Florians Nudl is an attractive, granite fin that protrudes from the southeast end of the long summit ridge.
While your primary climbing goal of the day is probably Goat Mountain, Florians Nudl is an irresistible spire worth climbing as part of your ascent to the summit of Goat Mountain (as it was for me), or as part of your descent from the summit of Goat Mountain. Here's how to do it.
From the narrow saddle between Florians Nudl and the summit massif of Goat Mountain, it is approximately 110-120 feet (vertical) to the top of Florians Nudl. It is only 100-150 yards from the saddle, so it's worth exploring if nothing else. From the saddle, scramble southeast along the narrow Class 4 ridge on exposed blocks and fins. Soon you will reach an impossible ridge tower. Skirt the right/southwest side of this obstruction on a ledge to reach the base of the southwest face of Florians Nudl.
Work your way up the southwest face on ledges and chimneys on solid rock that offers bomber handholds. This is the crux of the climb and it gets you close to the summit ridge. A final climb up a testy, exposed slab gets you onto the ridge crest, just north of the summit. From here, scramble south on the ridge to reach the final summit blocks. Climb a smooth, dihedral-like slab to reach the high point. This summit is a very airy perch! I found no summit register or cairn atop this bad boy.
Mountain Range: Pioneer Mountains
Longitude: -114.1367 Latitude: 43.7679
Share this post ...