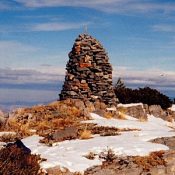 Liv Douglas is a Colorado mountaineer who has reached the summits of over 3,000 peaks, mostly in the Western United States and Canada, but also in Mexico, Ecuador, Bolivia, New Zealand, and Australia. He was called "The Gazelle" by spotters for Custer County Search & Rescue in August 2009 when they spotted him scrambling across the connecting ridge between Borah Peak's south summit (11,898') and Sacagawea Peak (11,936'). Apparently, he appeared to just cruise across the choppy, knife-edged ridge, handling it with relative ease. "So that's my claim to fame in Idaho, though I find it hard to believe that I looked like a gazelle—probably more like a mountain goat. It took me over an hour to cross the 1-mile ridge and just under an hour coming back across it. It was a rather tedious endeavor, certainly no cruise."
Liv is by a wide margin the most prolific non-Idahoan Idaho peakbagger. His goal is to reach the summit of all of Idaho's ranked summits of 11,000'+ in elevation. To date, he has climbed just shy of 100 of these peaks and 619 Idaho summits in total. Most recently, in 2019 he climbed 319 Idaho peaks. He also follows the path less followed whenever possible. Rather than follow the standard route to the summit he, almost always, looks for alternative routes. As a result, to date, he has climbed and reported on 99 Idaho routes which were likely never climbed before and descended 80 Idaho routes likely never followed before. In the process he has opened up new climbing opportunities for Idaho peakbaggers and vastly increased our knowledge of Idaho's mountain terrain.
Livingston's extensive climbs of Idaho's 11ers and Continental Divide peaks has given him unique insights into that marvelous terrain. While his explorations are a work in progress he has provided us with his current favorite Idaho peak and favorite ridge climb.
Favorite Idaho Mountain: Leatherman Peak
"Leatherman Peak is an ominous, dark mountain when viewed from the pullout along Highway 93 north of Mackay. It towers over Highway 93 and is intimidating. But, of Idaho's big mountains, Leatherman Peak is the best. The black/dark brown, crumbly lava rock on it is absolutely dreadful for footing and handholds. But at least there is a trail up to the saddle at the base of the West Ridge. A very worthy Class 3-4 day climb and not crowded like Borah Peak to the north."
Favorite Idaho Ridge Climb: North Ridge of Devil's Bedstead East
"Hands-down, this is THE pre-eminent ridge scramble in the State of Idaho. It is a full-on Class 3 endeavor, knife-edged with magnificent exposure. And, surprisingly for Idaho, the rock is SOLID on this ridge. I have done a lot of ridge climbs in Idaho but this one has always remained my favorite. It is breath-taking."