Elevation: 8,319 ft
Prominence: 1,579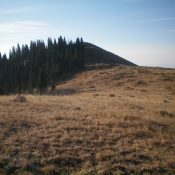 Climbing and access information for this peak is on Page 368 of the book. Updated November 2020
---
Henry Peak is the highest point in the Grays Range. It sits seven miles due east of Blackfoot Reservoir. Henry Peak is the highest of six peaks that surround Henrys Cutoff Pass. It has a magnificent pyramidal summit when viewed from the pass. Henry Peak has over 1,500 of prominence and really stands out in this area. It is one of two peaks located on the east side of Henrys Cutoff Road: Peak 8142 and Henry Peak. The best access to these peaks is from Henrys Cutoff Pass (7,056 feet). Both of these peaks have open summits and offer beautiful views of the surrounding area. USGS Wayan West
Access
Same as for Peak 8142. This is the second leg of a two-peak journey that begins at Henrys Cutoff Pass.
North Ridge, Class 2
The Climb
From the 7,580-foot connecting saddle with Peak 8142, scramble south up through a forested section of the rounded north ridge that isn't too bad and has game trails early on. Higher up, the forest gets thicker and brushier (I found out on the descent that it is easier to stay on the east side of the forest in this area and use a cattle trail there to expedite the bushwhack). Bash your way up onto the open ridge crest just northwest of Point 8070. Follow the open ridge crest directly to the pyramidal summit of Henry Peak.
The ups and downs along the ridge add about 520 feet of uphill (round trip) to the climb. There is a weak-to-decent game trail on the ridge crest most of the way. There are a few sections of thick brush/sagebrush to work through (in the minor gullies) but there is a game trail to make that chore an easier one. The summit of Henry Peak has a nice cairn about 50 feet northwest of the actual high point.
Return to Henrys Cutoff Pass, Class 2
From the summit, descend the north ridge back to the 7,580-foot connecting saddle. From the saddle, contour north through a short patch of pine forest to reach open terrain on the north side of the forest. Skirt the left/west side of a ridge hump on the way. Once in the open sagebrush, head diagonally west-northwest to reach the base of the west ridge of Peak 8142 near its toe. Descend a short distance west to intercept Henrys Cutoff Road just south of a thick patch of aspens. Follow the road a short distance right/north to Henrys Cutoff Pass and your parked vehicle.
Mountain Range: Peale Mountains
Longitude: -111.40411 Latitude: 42.92069
Share this post ...