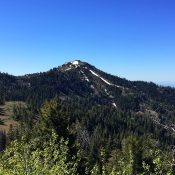 Hitt Mountain is found on page 103.
---
Hitt Mountain is the second highest summit in the Hitt Mountains. It is located roughly 2.5 miles south of Sturgill Peak, the range's high point. The peak is most easily reached from the broad saddle between it and Sturgill Peak. This saddle can be reached from several directions but I recommend utilizing the Sturgill Peak Road.  This road is accessible from US-95 10.0 miles north of Weiser. The road is signed at the highway as the Mann Creek Road. Follow the road past a reservoir and into the forest where you will pass campgrounds and a sign pointing you toward the lookout. The saddle is 16.0 miles from the highway. Google Maps works well getting you to this destination if you ask for directions to Sturgill Peak.
Park on the saddle. You now must follow the ridge south. This can be accomplished by either crossing through the fence and follow the road descending down off the saddle or using a combination of game trails and the ridge road. If you decide to use the road the entire distance your walk will be longer. The road off the saddle will junction with the ridge road in 0.5 miles and turn back south to parallel the ridge leading to Hitt Mountain.
I recomend following the fence line south using a game trail which will lead you across the west side of the ridge to the first saddle south along the ridge. Rejoin the road at this point and follow it to the second saddle. From this saddle, you can continue on the road or follow the fence line or follow a good game trail across the west side of the ridge to the third saddle. This last option involves the least up and down. The ridge road is likely to be clogged in places with snow into late June but the ridge top may be melted out as early as Memorial Day.
The game trails I followed were in good shape. You will pass through three saddles to reach the peak's north ridge. The route is Class 2 up this ridge. The south ridge is also Class 2.
Mountain Range: Cuddy and Hitt Mountains
Longitude: -116.92569 Latitude: 44.59409
Share this post ...