Elevation: 8,333 ft
Prominence: 953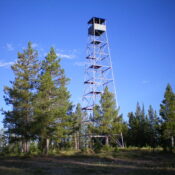 This peak is not in the book. Bing Young provided the historical information for the fire lookout. Livingston Douglas provided the remainder of this page. Livingston provides detailed driving directions below. I note that Google Maps will give you directions, however, it is always wise to check with the Forest Service for current road conditions before using Google Map directions. Updated November 2023
---
Jureano Mountain is the high point on a ridge that is west of Leesburg and Napias Creek deep in the Eastern Salmon River Mountains. It is most easily reached via FSR-300 and FSR-061. A ridge road leads to the top. The summit has a metal fire lookout tower (which does not appear to be in current use) with a cabin and old garage nearby. USGS Jureano Mountain
Bing Young wrote of this lookout site:
Jureano (8,345 feet) sits atop a long gentle—sloping ridge between Panther Creek and Napias Creek. There is a motorway right to the lookout site, making it very accessible. Jureano is one the the three lookouts in the Forest to have had a 70-foot steel tower which had to be used for a good view of the surrounding area. The lookout's cabin and garage were kept below the tower which replaced an old wooden tower.
Jureano was one of the later lookouts to come to the Forest (post-1930) and has been everything from a primary lookout to an emergency lookout until it was finally abandoned. Jureano is in very good condition and it is a good lookout to visit. It is easy to get to, although caution would be in order if climbing the tower. —Salmon National Forest Fire Lookouts by Bing Young 1982, Pages 27-28
Access
From the Sinclair Gas Station at the north end of Salmon on US-93, drive 3.1 miles north on US-93 to a signed junction with Diamond Creek Road at the Lemhi County Fairgrounds. Turn left/west onto Diamond Creek Road and reset your odometer. At 0.5 miles, the road bends hard right/north. At 0.8 miles, reach a "Y" junction. Go left onto [signed] FSR-023. At 11.6 miles, reach a 4-way signed junction on a saddle. Reset your odometer at this junction. Continue west on FSR-023.
At 3.7 miles, reach a signed junction with FSR-406 (right). FSR-023 bends left/south here and then bends right/west to reach a signed junction with FSR-300 (left). Go left/south onto FSR-300, which is a well-maintained dirt road. Drive south then west on FSR-300 for 14.4 miles to a "T" junction with FSR-061 on a high ridge. Park at this junction (7,373 feet; 45⁰13'15"N, 114⁰13'52"W). If you have a 4WD vehicle with good tires, you can drive south on [sometimes rugged and rocky] FSR-061 all the way to the summit of Jureano Mountain. The roughest section of the road is a logging area early on that is quite rocky and a bit steep.
This is the first leg of a 2-peak adventure that includes JureanoMountain and Trapper Ridge (8,013 feet). It is a road hike that covers 8.0 miles with 1,625 feet of elevation gain round trip. It begins at the junction of FSR-300 and FSR-061 on the high ridge crest.
Map Errors
The USGS topo map incorrectly shows FSR-300 as a jeep road when, in fact, it is a pretty smooth, maintained dirt road (as the Salmon National Forest Map shows). The USGS topo map shows a spurious jeep trail that intersects FSR-061 just south of FSR-300. That jeep trail does not exist. The USGS topo map shows a road junction (and side road) high on the east ridge of Jureano Mountain. That road (and junction) no longer exists. The USGS topo map also shows a side road heading north from the summit of Jureano Mountain. That road no longer exists. The USGS topo map shows a trail that crosses the ridge road just east of Trapper Ridge. That trail no longer exists.
North
Ridge,
Class
1
The Climb
From the road junction, hike (or drive) south on FSR-061 for about two miles then west for about a mile to reach the fire lookout in a clearing atop Jureano Mountain.
West Ridge, Class 1
The Descent
From the summit, continue west on FSR-061 as it descends to a small saddle. The road is much narrower, rougher, and steeper than it is on the north side of Jureano Mountain. The 7,900-foot connecting saddle concludes the first leg of today's 2-peak adventure. Trapper Ridge (8,013 feet) is up next.
Mountain Range: Eastern Salmon River Mountains
Longitude: -114.24289 Latitude: 45.20401
Share this post ...