Elevation: 12,228 ft
Prominence: 5,387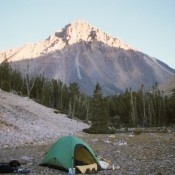 Climbing and access information for this peak is on Pages 276-277 of the book. The West Ridge and Southwest Face Routes are discussed in the book. There is a lot of new route information on this page including 2 routes on the Northeast Ridge. This ridge is now more popular than the West Ridge. Also, check out the view from Leatherman's summit through Larry Prescott's photo essay and see Wes Collins' article on The Lost River Traverse. Updated December 2018
---
Leatherman Peak is the 2nd-highest peak in the State of Idaho and is located in the Lost River Mountain Range. It is one of the nine Idaho 12ers. Leatherman Peak is a distinctive peak that is easily visible from US-93, yet it is difficult to access. Approaches from both the east and the west require a 4WD, good rough road driving skills and a bit of patience. Scroll down this page to find descriptions of the Northwest Face/Northeast Ridge and the Northeast Ridge routes, which are not found in the book. USGS Leatherman Peak
Leatherman Peak can be accessed from the east and the west. West side access has deteriorated since the book was published. Derek Percoski provided the following 2018 update on the west access: "Sawmill Gulch has a well-defined trail with occasional cairns. However, once you get to the flat area at 9,600 feet, you're on your own to Leatherman Pass. It's actually not that easy. I remember having to descend some loose garbage to get down near the start of Lone Cedar Creek, without any obvious or easy way to go. From Leatherman Pass, I think there's a little bit of a visible path in the scree but it fades away as you ascend and the route gets more ambiguous."
---
My Photo Essay
---
Northeast Face, Upper Northeast Ridge, Class 3
Dan Robbins reports the following route on Leatherman Peak, which is not found in the book. Also, check out Dan's trip report which is linked below.
Come in from the West Fork Pahsimeroi Trail [(B)(8)(a)] hiking due west toward Leatherman Pass. Between Peak 11909 and Leatherman Peak, follow the gully up to a cirque at 10,800 feet. From here, either climb the Northeast Face, or continue up the gully to the ridge at 11,800 feet and follow the ridge to the top.
All the rock on this route is tight and it is a very pleasant route. There is only one short 20-30 foot section of Class 3 climbing, which could be bypassed by dropping down off the ridge a little (I'm too lazy to do that though). The face looked doable in several spots too, and probably would have been just as easy. 8 miles, 4,100 feet of elevation gain, took us 8 hours, but my friend bonked. If I had soloed this peak, I probably would have finished it in 6 1/2 to 7 hours.
---
North Ridge Route, Class 3
Steve Sheriff of Missoula, Montana, climbed the complete Northeast Ridge . The following information was provided by Steve. He also put up a new route on Old Hyndman.
North Ridge via Peak 11909 (7/10/1999)
I did this route with Dave Pengelly and John Kienberger. It seems as if this should have been done before as it is an obvious way up Leatherman Peak, if you are in the East Fork Valley. I'd wanted to get up Leatherman Peak and we were down there to climb Mount Corruption, so we wandered up Leatherman Peak via the North Ridge as well.
This was mostly a walk with some minor scrambling and makes for a really nice, scenic ridge wander. Nice enough that we reversed the route to return to the car; an 8-hour round trip. The wildlife highlight of this one was startling a mountain lion on the way back through the woods.
---
Mountain Range: Lost River Range
First Ascent Information:
First Ascent Year:

1910

Season:

Summer

Route:

Unknown

Party:

T.M. Bannon
Other First Ascent:

First Winter via West Ridge

Year:

1973

Season:

Winter

Party:

W. March and R. Albano
Longitude: -113.7332 Latitude: 44.0821
Photos: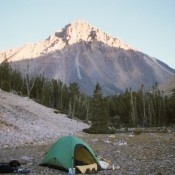 Share this post ...