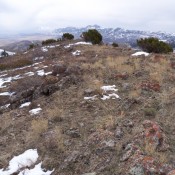 The Malad Range is a Great Basin limestone uplift that straddles the Idaho/Utah border. It is tucked into the western slopes of the Bannock Range just east of 1-15. The southern end of the range extends into Utah, where it reaches over 8,000 feet in elevation. Boundaries of the range include Malad Valley on the west, ID-36 thru Weston Canyon on the north, Cache Valley ID-UT on the east, and Bear River at Gates of the Bear on the south.
The western escarpment of the range is well-cliffed. The Malad Range highpoint is Gunsight Peak 8244 in Utah, which is a popular ascent with local youth church groups. The Idaho side of the Malad Range has 14 ranked peaks. None are frequently visited. Note: unranked Sheep Dip Mountain on the Idaho//Utah line is actually 10 feet higher than the Idaho high point. The highest Idaho point is Peak 7047. The Malad Range is geologically similar to the Bannock Range and is also administered by the Caribou National Forest.
This range is accessed from either Malad, via the old highway (which parallels I-15) or from FS-038 which begins at I-15 just north of Malad and follows Deep Creek and then Weston Creek along the eastern side of this subrange. From either of these roads, numerous roads lead into the mountains.
Rick Baugher has extensively explored this range and contribute significantly to this section. He remembers his "early experience with the Malad Range involved an early Spring drive on I-15 where approximately 1,000 head of deer were observed wintering on the lower sage slopes of the range. More recently, I met 2 ranch kids on horseback. Their after-school chore was to hunt mountain lions. The big cats, it seems, regularly harass livestock. Where have all the deer gone? For the above reason, hikers should be vigilant when in the juniper woodland."
Mountain Range: Bannock Range
Share this post ...