Elevation: 9,545 ft
Prominence: 2,145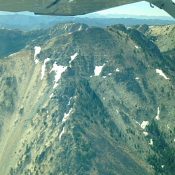 Climbing and access information for this peak is on Page 122 of the book. Thanks to Ken and Karen Jones, we have now have photos and updated route information which will aid your quest in reaching this impressive, remote summit. Based on Ken's report, the route rating is upgraded to Class 2+. Published July 2018
---
Mormon Mountain is located west of the Middle Fork Salmon River in the middle of the Frank Church River of No Return Wilderness. USGS Mormon Mountain
There is no easy way to reach this peak. Ken and Karen Jones, as part of Ken's quest to climb all of Idaho's 2,000+ prominence peaks, climbed the peak from the Flying B Ranch. Undoubtedly, because of the peak's remote location, their approach is the most practical approach unless you are a wilderness packer. Ken's trip report which follows also provides important information on area trails.
We climbed Mormon Mountain from Flying B Ranch. The other person (Greg Jagielski) that I know to have done the peak hiked there from Middle Fork Peak. Being less strong than Greg, Karen and I flew into the airstrip using a flying service. FWIW, we also booked a night before and a night after our trip at the ranch, where we had a relaxing time and great food.
We were slow in the June heat and took three days (actually, a half day, a full day, and a half day) for our climb. The trail from the Flying B up Brush Creek is pretty good, though it was brushy in spots. You'd expect that. And there are frequent fords of the creek, which don't bother the pack stock for which the trail seems to be maintained but which caused a lot of unbooting and rebooting on our part. Carry fording footwear. We set up camp in the vicinity of BM 5696 at the junction with the North Fork Trail /FST-061.
In the morning, we followed that trail easily to around the spot where FST-061 is shown forking toward the summit away from FST-058. FST-058 was clear in this vicinity and appeared as the continuation of the trail we were on. We tried to follow FST-061 and perhaps we did for a little while. If so, it was pretty obscure. We might just have been on game trails most of that time. We fought this battle until somewhere between the first and second mapped stream crossings. Eventually we quit trying to find a tread and just headed across the basin and up to the ridge southeast of Peak 9444. Then we followed the ridge, with diversions as appropriate to avoid cliffy bits, to Mormon Mountain. There were a few bits after the last saddle that went at Class 2+, though more careful route-finding would likely keep this at Class 2. We looked repeatedly for the mapped trail and I fancy that I'm pretty good at finding old treads, but we never found anything up there.
I'm not saying there was never a trail, or that it hasn't been cleared and restored since we were there (not that I have any information about that).  I'm just saying that, at the time of our trip, we were unable to find enough of FST-061 to make any helpful use of it past the junction with FST-058.
Mountain Range: Central Salmon River Mountains
Longitude: -114.88101 Latitude: 45.01539
Share this post ...