Elevation: 6,265 ft
Prominence: 820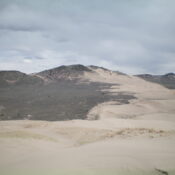 This peak is not in the book. Published November 2022
---
North Junipers HP is the highest peak in the St. Anthony Sand Dunes Area west of Parker, Idaho. It is most easily reached from Grassy Ridge Road to its north. The roads leading to the north side of North Junipers HP are quite good. This area is a mix of private and public land, so be careful. This is the first leg of a 2-peak adventure that includes North Junipers HP and Peak 5961. It avoids the dubious, 2-track side roads that might leave you stuck in deep sand with no place to turn around. USGS Big Grassy Ridge
Access
Grassy Ridge Road (unsigned) is reached from Red Road. Red Road is a north-south paved road that is located west of Parker, Idaho. It can be reached from Parker via West 4th North Road or via South Parker Road/500N. Follow either road west to its junction with [signed] Red Road, which is signed as 1900E. From the south, Red Road can be reached on US-20 in North Rexburg (Exit 337). After exiting US-20, turn left/north onto [unsigned] Salem Road which becomes Red Road. Drive 6.1 miles north on Salem/Red Road to its signed junction with 500N.
From the signed junction of 500N and 1900E (Red Road), drive north on Red Road (a paved, 50MPH road) for 8.2 miles to an unsigned junction with Grassy Ridge Road (a wide, well-maintained gravel/red dirt road). Ironically, Red Road is not red at all. It is a paved, blacktop highway. Grassy Ridge Road is a road of red gravel/dirt. Grassy Ridge Road is the true "red road." Reset your odometer at the junction of Grassy Ridge Road and Red Road.
At 3.4 miles, reach an unsigned junction (at 5,397 feet on the map) with a side road that is posted and goes left/south onto private ranch land. This side road heads almost directly south at the summit of North Junipers HP. It is a useful landmark. At 3.6 miles, reach an unsigned side road(s) that lead left/north a short distance to a parking area and multiple ATV trails. Park here (5,410 feet). This is the most direct route to North Junipers HP.
If you drive a bit farther along Grassy Ridge Road to a road junction at 4.2 miles, you reach a junction with a southbound jeep road with a "Camping Regulations" sign near its base. Park at this junction (5,413 feet on the map) or drive a short distance south on the rutted dirt road (which may be impassable due to mud holes and ruts) a short distance to an open camping area and park there. This route is slightly longer but requires less off-trail sagebrush bushwhacking than the aforementioned side road at the 3.6-mile point on Grassy Ridge Road.
Northwest Face, Class 2
The Climb
From the parking area at 5,410 feet, scramble southwest along the left/east side of a series of sand dunes. Be sure to stay right/west of the cattle fence that separates BLM land from private ranch land. This is a somewhat tedious endeavor due to some ups and downs, unpleasant side-hilling on steep terrain,loose sand, and sagebrush. After about 1.5 miles of effort, pass the sand dunes and reach a corner in the fence row. Find an ATV road for the final section of the bushwhack southwest. Head left/east along the fence row and skirt the left/north side of a prominent buttress near Point 5510.
Once past the buttress, bushwhack through sagebrush and cross 2-3 minor dry gullies to reach the base of the [obvious] intimidating northwest face of North Junipers HP. From here, there are two options. Either follow the primary, sandy, brushy gully south then southeast up onto the summit ridge and then follow the west ridge to the top OR climb directly southeast up the face to the summit. I chose the latter option. The northwest face is a steep, sandy mix of junipers, aspen, and sagebrush initially then a mix of sand and short grass higher up. Though a bit tedious, it goes quickly and leads directly to the summit area. There was no cairn on the summit, which sits atop a narrow ridge line. It is clearly the high point even though the southwest summit is only 34 feet lower (6,231 feet).
South Gully, Class 2
The Descent
From the summit, descend the ridge southwest to a saddle then up 100 vertical feet over Point 6231 amidst much sagebrush and sand. From Point 6231, descend west to a prominent gully that heads south down to a wide, sagebrush valley. Bushwhack through sand and sagebrush to reach an ATV road that cuts through the middle of the sand-and-sagebrush valley. This is the low point of the traverse to Peak 5961 and concludes the first leg of today's 2-peak journey. Peak 5961 is up next.
Mountain Range: Snake River Plain
Longitude: -111.87859 Latitude: 44.05179
Share this post ...