Elevation: 5,961 ft
Prominence: 331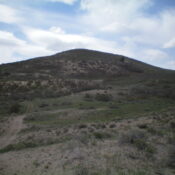 This peak is not in the book. Published November 2022
---
Peak 5961 is a double-humped summit that is located southwest of North Junipers HP. It can be most easily reached via ATV/Jeep roads (many of which are NOT shown on the USGS map) coming in from Grassy Ridge Road to the north.This is the second leg of a 2-peak journey that begins with a climb of North Junipers HP. It avoids the dubious 2-track roads that could you leave you stranded in deep sand with no place to turn around. USGS Big Grassy Ridge
Access
Same as for North Junipers HP. This is the second leg of a 2-peak adventure.
South Spur/Southeast Ridge, Class 2
The Climb
From the base of the south gully of North Junipers HP, cross the ATV road (shown on maps) that heads west then northwest through the thick, sagebrush valley that separates North JunipersHP and Peak 5961. Bushwhack southwest through endless sand and sagebrush to reach sand dunes in the lower ramparts of Point 5787, which can be mistaken for Peak 5961. Scramble up-and-down through the sand dunes to reach a firmer, black rock/boulder ridge of sorts and follow it to the top of Point 5787.Descend west then southwest from Point 5787 to cross the head of a gully that separates Point 5787 from Peak 5961. This is a very sandy endeavor with some ups and downs. Once at the head of the sandy gully, head north up the sagebrush-covered spur ridge to reach the southeast ridge of Peak 5961. Continue northwest up the ridge to the summit. There was no summit cairn atop the peak. The summit is the eastern of two humps of almost equal height.
Northeast Face, Class 2
The Descent
From the summit, descend the ridge/face northeast then north to intercept a visible ATV trail that heads in an east-west direction through the sagebrush valley that separates Peak 5961 from North Junipers HP. Cross the ATV trail and angle northeast through sagebrush to intercept another ATV trail (not shown on maps) that crosses the west ridge of North Junipers HP just east of Point 5667. Follow this ATV trail as it heads northeast. When the ATV trail bends left/north, leave the trail and bushwhackeast across a series of minor sagebrush gullies and ridges to intercept another ATV trail (not shown on maps) that heads northeast toward Point 5510. Once past Point 5510, follow the left/west side of the fence row as it tracks the right/east side of a series of sand dunes to return to your parking spot just off Grassy Ridge Road. Be sure to stay left/west of the fence row to remain on BLM land.
Mountain Range: Snake River Plain
Longitude: -111.91689 Latitude: 44.0341
Share this post ...