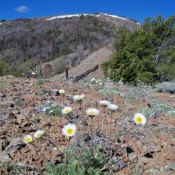 This peak is not in the book. The following text and photos by Rick Baugher.
---
Bartlett Mountain (prom 394′) is located in the Boulder Mountains and is the highest peak on the Herd Peak quad. This scenic tundra top heads Bartlett Creek, tributary to North Fork Big Lost River. The peak is unofficially named after Jerome Bartlett, a native of West Virginia, came to Idaho Territory in the late 1880's to settle on 80 acres of bottom land along North Fork Big Lost River. To the family of 7 children this was known as 'the upper ranch'. The family also operated a 'lower ranch' along Big Lost River at Bartlett Point. Here the map shows another Bartlett Creek, where part of the original ranch still stands.
Daughter Neva remembered how each Fall her dad made the 32 mile trip over Trail Creek Summit to Hailey in order to lay in a wagon load of provisions for the long hard winter. Always honest in his dealings, Bartlett's distinguishing physical characteristic was his black head of hair and yellow mustache. He playfully taught his children the following rhyme:
Don't trust any man
Not even your brother
Whose hair is one color
And mustache another
Thanks to Mrs Sally Johnson of Barton Flats for helping with some of the historical details.
Approach the peak from Forest Route 445 (ATV trail) escape the human imprint by hiking the volcanic spur ridge west to the top. USGS Herd Peak
Mountain Range: Boulder Mountains
Longitude: -114.23901 Latitude: 43.90849
Share this post ...