Elevation: 5,235 ft
Prominence: 575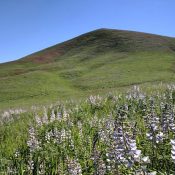 This peak is not in the book. Additional Danskin Mountains access information is in the book [(D)(1) on Pages 154-155 and (G)(1) on Page 156]. Also see the following website page: Danskin Mountains OHV Trails. Published May 2018
---
This peak is located is located east of the main Danskin Mountains Crest in a broad peninsula formed by a large bend in the South Fork Boise River. The peak is tantalizingly close to the South Fork Boise River Road [(E)(2.1) on Page 155] but, unfortunately, private property blocks an approach from that road. USGS Cathedral Rocks
Although not particularly high, Bridge Peak is one of my favorite peaks in the range for many reasons: the view, route, remoteness, aesthetics, and simply the overall experience.  Similar to Peak 4524/Buffalo Peak, Bridge Peak is curiously situated adjacent to one of the many flats which characterize namely the southern Danskins and offers fantastic views of Boise River Canyon. Unlike majority of peaks which are classically picturesque from one side (but somewhat disappointing and resemble more of a ridge from other angles), Bridge Peak is symmetric and maintains that classic peak aesthetic from all angles which further enhances the summit experience.
The 2 routes set out below share the last 4 miles which, ironically, DESCENDS northeast to the peak via a bike-able primitive double-track road thru rolling grassland, which is equipped with small ponds making for an almost alpine feel.  Once the road reaches gated private property, simply cross-country to the summit for the last half-mile or so.
Routes
Danskin Southeast Ridge Trail #143A01
Round-trip: 19 miles with 4,700 feet of elevation gain.
Trailhead access: Medium difficulty via Danskin Lookout Road.
Mountain bike-able: Yes, but with some hike-a-bike, an adventurous spirit, and strong legs.
Route finding: Difficult until gaining the ridge; the maze of old roads and horse trails are faint to nonexistent in places and it's extremely easy to follow the wrong one; study the USGS-marked roads carefully and pay close attention.
Thoughts: My favorite back-country route in the southern portion of the range; views are stunning, route finding is an adventurous blast, and the solitude is magnificent.
West Ridge
Round trip: 14 miles with 5,300 feet of elevation gain.
Trailhead access: Easy via nicely maintained FS-131.
Mountain bike-able: No.
Route finding: Pretty easy, cross-country ridge until reaching Danskin Southeast Ridge Trail#143A01 at which point the route eventually descends a primitive double road to within 0.5 miles of the summit.
Thoughts: Can bag Peak 5913/Cayuse Peak along the way; views are fantastic.
Mountain Range: Boise Mountains
Longitude: -115.56769 Latitude: 43.38801
Share this post ...