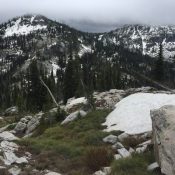 This peak is not in the book.
---
Peak 7657 sits on the Idaho-Montana border south of Wahoo Pass and west of the Twin Lakes. The peak is located at the upper end of Montana's Lost Trail Pass in the Bitteroot Mountain Range.
I got snowed out of the area after climbing Peak 7544 in late June 2016. However, before leaving I spotted cairns leading up toward the summit from Wahoo Pass. It looks as the the route stays on the Montana side for the first half of the climb and then swings around to the Idaho side to finish the route.
Access is from Montana. See the page for Peak 7544 for access directions.
Class 2
USGS Topo: Saddle Mountain
Mountain Range: Bitteroot Mountains
Longitude: -114.51459 Latitude: 46.15449
Share this post ...