Elevation: 7,767 ft
Prominence: 587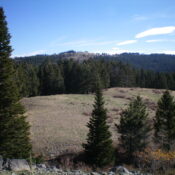 This peak is not in the book. This peak was climbed on the same excursion as Peak 7936. Published November 2022
---
Peak 7767 is the high point on a semi-forested ridgeline that separates Bear Camp Gulch from the North Fork Pebble Creek in the Portneuf Range. It is most easily climbed via its south ridge from the North Fork Pebble Creek Road/FSR-013. USGS Bear Camp Gulch
Access
Same as for Peak 7936. This is the second leg of a 2-peak adventure that includes Peak 7936 and Peak 7767.
West Ridge, Class 2
The Climb
From the trail junction in the meadow along FSR-013 at 7,060 feet, bushwhack southeast up through a reasonably easy pine/aspen forest to reach open scrub terrain atop Point 7397. You can readily see the open scrub terrain on the west face of Peak 7767 from here. But reaching that open terrain won't be easy. There is a lot of thick forest between here and there with some strange undulations and wiggles in the somewhat ill-defined ridge.
Bushwhack east then northeast through an undulating pine forest with some pockets of open scrub on a very convoluted "ridge" of sorts. A final push northeast up through a somewhat thick patch of forest puts you in open scrub terrain. Scramble east up the open slope to the scrub-covered summit of Peak 7767. The high point is at the west end of the flattish, elongated summit area. It is NOT a small, obvious hump as the USGS topo map suggests. There was a small, torn-down cairn on the high point. So I rebuilt it.
South Ridge, Class 2
The Descent
From the summit, head east then southeast across endless scrub. After skirting a patch of aspens, drop to an open scrub saddle. From the saddle, scramble southeast up more scrub to reach the southeast summit (Point 7760+) which measures awfully close to the height of the official summit of Peak 7767. Based on the land mass above the final contour line, Point 7760+ IS the high point on this ridgeline. Stand atop both potential high points just to be sure.
From Point 7760+, descend relatively easy scrub on the open, rounded south ridge east-southeast then south to a critical juncture at about 7,300 feet. From this ridge juncture, descend right/southwest to a flat, open mesa, crossing a fence row on the way. That fence row comes up from the mesa and crosses the main ridge crest. As I found out, this fence row is your ticket home. Grab it and hold onto it like it's your best friend.
Follow a cattle/use trail on the left/east side of the fence row down to the mesa and continue to follow the fence row (on a very good cattle/use trail) all the way down through the forest and down to its crossing of FST-239, an ATV trail. Follow FST-239 right/west for about 1/8 mile to its junction with FSR-013. Hike a mile south on FSR-013 to return to the dispersed campsite and your parked vehicle.
Mountain Range: Portneuf Range
Longitude: -112.10301 Latitude: 42.80719
Share this post ...