Elevation: 8,566 ft
Prominence: 426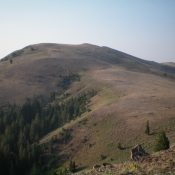 This peak is not in the book. Margo Mandella and Livingston Douglas contributed the peak, access and route information found below. They both linked Peak 8566 and Peak 8620 together but in opposite directions. Updated November 2021
---
Peak 8566 towers over Big Canyon, Iron Bog Creek, and Smiley Creek. This is the first leg of a 2-peak journey that includes Peak 8566 and Peak 8620. It covers 8.5 miles with 2,500 feet of elevation. It begins at the Iron Bog Campground. Peak 8566 lies south-southeast of Smiley Mountain. The summit of Peak 8566 offers excellent views of various Pioneer Mountains, White Knob Mountains, and Lost River Range peaks as well as nearby Smiley Mountain. USGS Smiley Mountain
Northwest Ridge Access and Route by Margo Mandella
Access
Same as for
Peak 8620
. Peak 8566 makes for an excellent climb when combined with nearby Peak 8620.
Northwest Ridge, Class 2
From the trailhead marker, follow a well-travelled trail north that parallels the creek to a flat, thinly-willowed creek bottom at about 7,600 feet where you can easily cross. A faint game trail leads to the saddle at 8,200 feet. Continue to the summit via the peak's northwest ridge. A large cairn does not mark the true summit but is interesting to check out.
South Ridge Access and Route by Livingston Douglas
The Iron Bog Campground is located 24.1 miles southwest of US-93 on Antelope Road/FSR-137. Park just past the campground entrance along FSR-137 (7,175 feet). The junction of US-93 and [signed] Antelope Road is located 10.7 miles north of the junction of US-93 and US-20 in Arco.
South Ridge, Class 2
The Climb
From the Iron Bog Campground, walk southeast on FSR-137 for a short distance and cross a bridge over Iron Bog Creek. Leave the road after crossing to the east side of Smiley Creek. Scramble northeast up the steep slope of loose gravel/sand and sagebrush to reach the easier terrain of the south ridge. Once on the ridge crest, follow the meandering ridge north then northeast then north to the summit. The ridge terrain is a mix of short scrub, some sections of thicker scrub, and scree/gravel. There is one ridge hump about midway up that must be climbed over with a 40-foot drop to a minor saddle soon after. The summit is the southern hump of two humps and has a large cairn.
Northwest Ridge, Class 2
The Descent
From the true/south summit, follow the ridge crest northward down to a minor saddle then up over the [lower] north summit hump. Continue a bit farther north along the ridge then descend left-ish/northwest down an obvious shoulder of easy scrub to reach a bare saddle of gravel/sand and short scrub (Saddle #1) at 8,220 feet. The ridge bends north here and goes up over a rocky ridge point then down to the 8,140-foot connecting saddle with Peak 8620 (Saddle #2). This concludes the first leg of today's 2-peak adventure. Peak 8620 is up next.
Mountain Range: Pioneer Mountains
Longitude: -113.75459 Latitude: 43.66289
Share this post ...