Elevation: 8,787 ft
Prominence: 687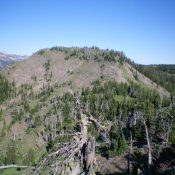 This peak is not in the book. Published 2020
---
Peak 8787 is located on the Continental Divide in the Eastern Centennials. It sits above the headwaters of Myers Creek (ID) and Willow Creek (ID) and overlooks Blair Lake (MT) to the north. The routes described are part of a 2-peak journey that includes Peak 8432 and Peak 8787. USGS Mount Jefferson
Access
Same as for Peak 8432. This is the second leg of a 2-peak journey that begins at the top of Willow Creek Road.
East Ridge, Class 2+
The Climb
From the 7,940-foot connecting saddle with Peak 8432, follow the semi-open ridge crest southwest then west then northwest then west to reach the top of Point 8697. Yes, the Continental Divide has its share of wiggles. The terrain is a mix of forest and open grassy sections with game trails to help and some blowdown to navigate through. Point 8697 is a clogged "summit" at the west end of a narrow, forested section of ridge.
From Point 8697, descend west down an unpleasant mix of firs, blowdown, and veg to reach a small, open saddle with the CDT crossing it (the CDT is not shown on the USGS topo map). From this small saddle, bash your way northwest up a narrow, clogged ridge crest to reach easier terrain high up. Scramble west along the narrow "rock and firs" summit ridge to the high point of Peak 8787. The summit is marked with an ID/MT boundary post and cairn. The actual high point is 15 feet away. I rebuilt the summit cairn.
South Ridge, Class 2
The Descent
From the summit, return east to Point 8697 and descend south on the ridge. The south ridge is well-defined in some areas and is ill-defined in others. This descent goes well initially on easy, open scrub. Midway down, the ridge disappears in a flat, semi-open area at 7,660 feet. The terrain here is a bit confusing as there are two ridges to choose from at this point. Head left-ish/southeast to descend the correct ridge. If you accidentally stay too far to the right (as I did), contour southeast when you reach the head of a large gully. Reach a ridge saddle just north of Point 7548. The terrain over and up to this saddle is tedious: loose scree, steep sections, and much thicker (tall scrub, willows, and blowdown).
Oh, but it gets worse. We now go from "tedious" to "brutal" in the final ridge section in climbing from the saddle up over Point 7548 to its south. The terrain here is a combination of tall, thick vegetation and endless blowdown. Drop to a saddle south of Point 7548 and leave the ridge to descend east down a gully (which is also tedious and wicked) to reach the foot path that follows the left/west side of the Willow Creek drainage. Once you get back on the foot path/trail, follow it south to the gated closure of Willow Creek Road. This only requires a few minutes of walking.
Mountain Range: Centennial Range
Longitude: -111.57729 Latitude: 44.55901
Share this post ...