Elevation: 9,053 ft
Prominence: 833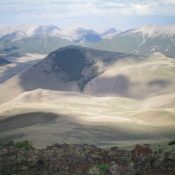 This peak is not in the book. Margo Mandella and Livingston Douglas have provided two takes on climbing this peak. Margo combined this peak with Peak 8937. Livingston combined this peak with three others: Spring Hill (9,449 feet), Peak 8860, and Peak 8937. Updated November 2021
---
Margo Mandella's Trip Report
Peak 9053 is located south of Peak 8937 in the Lost River Range. Class 2 approaches are from the north and west. The north approach is relatively treeless and provides good views of Lost River Range peaks throughout the climb. We climbed Peak 9053 as a loop with Peak 8937 to the north. Another ranked peak, Spring Hill, can be added to this loop. If the weather had been better, we would have bagged that too. You can also 4WD to the base of Spring Hill from the south. From there, you can crawl towards both Peaks 8937 and 9053, shortening your climb of all three peaks. USGS Doublespring
---
Access
From Mackay, Idaho, travel northwest on US-93 until you reach a junction with Doublespring Road (116 on Google Maps). Travel north on Doublespring Road until you reach a well-defined 4WD road that Google shows as 307. Take 307 until you reach 308. Climb 308 as far as you can and park. You will likely need a 4WD to ascend 308. However, we did not need one to get to our starting point shown on the GPS track below.
---
North Ridge (Ascent); West Gully (Descent), Class 2
From your parking spot along 308, climb up the track until it disappears. Head to the saddle area around 8,200 feet. As you head south (toward the North Ridge of Peak 9053), you will encounter a jeep track that ascends partially up the mountain. Stay on the track for a while and then bushwhack directly through easy vegetation to the flat summit.
We combined our climb of Peak 9053 with Peak 8937 to the north. Our GPS track below is missing the descent from Peak 9053 to our vehicle. We descended via the west gully, right near the "T" in Forest on the track. You can also ascend this gully, but it is steeper than the north approach. From the summit, you have nice views of the north side of Mount Borah and Mountaineer Peak as well as other surrounding 10K and 11K peaks. You might also catch a rainbow.
---
Livingston Douglas' Trip Report
Peak 9053 towers over Doublespring Pass Road to its west and Horseheaven Pass Road to its south. This update includes a new route on Peak 9053. This is the first leg of a 4-peak adventure that includes Peak 9053, Spring Hill (9,449 feet), Peak 8860, and Peak 8937. It covers 12.0 miles with 4,175 feet of elevation gain round trip.
Access
Park at an unsigned junction along Doublespring Pass Road/FSR-116 that is located 2.4 miles south of Christian Gulch Road and 1.4 miles north of Horseheaven Pass Road/FSR-117. The elevation at the junction (and base of a 2-track road heading east) is 7,275 feet. This old 2-track road is shown on the USGS topo map and goes to a water tank and then up the south side of a gully that separates Peak 9053 from Peak 8937.
West Face/North Ridge, Class 2
The Climb
From the road junction, follow the 2-track east briefly then leave it to hike cross-country through gapped sagebrush to reach the base of the steep, but open, west face of Peak 9053 just left/north of a gully and north of the thickly-forested northwest face. Grind slowly east up the easy scrub and broken scree with a few scattered pines to skirt. Reach the north ridge just above (and right/south of) the saddle that separates Point 8794 from Peak 9053. Scramble south up the easy scrub/grass and broken scree on the ridge crest to reach the small, rocky outcrop that is the summit of Peak 9053. The summit has a small cairn.
North Ridge/Northeast Spur, Class 2
The Descent
Descend the north ridge back to the saddle between Peak 9053 and Point 8794. Skirt the east side of Point 8794 and descend diagonally right/northeast to reach the east ridge of Point 8794. Follow a faint 2-track on the ridge crest northeast down to a saddle where a good jeep/ATV road (not shown on maps) comes up from a gully to the south. This is the 8,220-foot connecting saddle between Peak 9053 and Spring Hill. It concludes the first leg of today's 4-peak journey. Spring Hill is up next.
Mountain Range: Lost River Range
Longitude: -113.78649 Latitude: 44.26479
Share this post ...