Elevation: 9,768 ft
Prominence: 606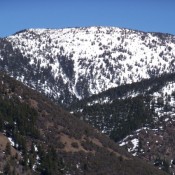 This peak is not in the book. Livingston Douglas has provided detailed route information below. Updated November 2018
---
This peak is unofficially named after southeastern Idaho pioneer geologist/geographer, George Rogers Mansfield. Mount Mansfield is situated on the Columbia-Great Basin Divide, 1.5 miles southeast of Meade Peak. The two peaks are separated by a 9,162-foot saddle. Climb the peak from the saddle. USGS Meade Peak
2018 Updates by Livingston Douglas
Northwest Ridge, 
Class
2
A
ccess
This route is part of a ridge traverse from Meade Peak. Please consult the southwest shoulder/west ridge route for Meade Peak for details on access via the Right Hand Fork Georgetown Canyon.
The Climb
From the 9,162-foot connecting saddle at the base of the northwest ridge, scramble southeast then south-southeast up the Class 2 ridge to the summit on somewhat choppy terrain that includes trees, rocky outcrops, thick scrub, and blowdown. This is a ridge that requires some effort. It is not a simple walk-up. When you reach the elongated north-to-south ridge crest summit area, there are open sections and other sections that have scattered trees. I found two points of similar height, about 60-80 feet apart (horizontal). Of those two possible summit high points, I found the southern one to be slightly higher. There was no summit cairn or summit register. The summit area is NOT heavily forested, as the USGS topo map suggests.
West Face, Class 3
Access
Same as for the northwest ridge
The Descent
The fastest way to return to Georgetown Canyon Road from the summit of Peak 9768 is via the Right Hand Fork Georgetown Canyon which is WAY below you at the base of the west face. But is the west face a go or does it have hidden cliffs to thwart your effort? Well, let's give it a try.
Contrary to the USGS topo map, the west face of Peak 9768 is mostly open, or semi-open, terrain. It is NOT heavily forested. From the summit, descend westward straight down the slope on terrain that is a combination of soft dirt, broken scree, veg, and scattered trees. The west face has numerous small gullies and shoulders in addition to face sections. The face steepens as you descend and becomes very steep as you make your final descent to the canyon floor. Finish the descent in a steep, dry gully and find a decent game trail just above the dry creek drainage of the canyon floor. The creek drainage, albeit dry, is thick with veg. You reach the canyon floor at about 8,050 feet.
Follow this game trail northward on the right/east side of the drainage about 30 feet above the creek bed. You will notice a use trail on the far side of the creek drainage. The game trail you are following soon descends to the dry creek bed. At this point, climb out of the drainage onto its west side and pick up the use trail. This trail (and what comes subsequently) is a GODSEND. It is wider than a cattle trail and is pretty easy to follow. If you temporarily lose the trail, the drainage is pretty narrow so you should be able to find it again relatively quickly. You don't want to have to bushwhack this drainage for a mile or so to get back to FSR-225/Right Hand Fork Road.
The use trail soon eventually morphs into an old, overgrown jeep road which, in turn, leads directly to an unmarked junction with FSR-225 at a sharp turn in that road (this is just below an old mine, where FSR-225 ends). The elevation here is about 7,500 feet. Go right onto the easy-to-follow FSR 225. Walk along FSR-225 downhill and westward to get back to Georgetown Canyon Road where you are parked.
It takes just under 30 minutes to reach the canyon floor from the summit. Another 20 minutes on the use trail/old jeep road. And just over an hour on FSR-225 from the junction all the way back to Georgetown Canyon Road. This is not a short descent—it's about five miles. But, thankfully, it goes pretty quickly and is, much to my surprise, mostly on trails/roads. I do not recommend trying to ascend this route. It is only good as a descent route.
Mountain Range: Peale Mountains
First Ascent Information:
Other First Ascent:

West Face -Descent

Year:

2018

Season:

Summer

Party:

Livingston Douglas
Longitude: -111.23479 Latitude: 42.47811
Share this post ...