Elevation: 9,855 ft
Prominence: 515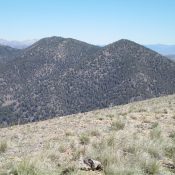 This peak is not in the book. Published November 2020
---
Peak 9855 sits at the head of the South Fork of Fritz Creek to its north and towers over the North Fork of Webber Creek to its south. While higher in elevation than its well-known neighbor to the east (Fritz Peak), Peak 9855 is on a forested ridge that includes several ridge points of similar height. Consequently, it doesn't stand out like the summit of rocky Fritz Peak. It is most easily climbed via its northeast ridge from the South Fork of Fritz Creek. USGS Scott Peak
Access
Same as for Peak 8773. This climb is the final leg of a three-peak odyssey that begins along Webber Creek Road/FSR-196.
East Ridge, Class 2
The Climb
From the connecting saddle with Fritz Peak (8,693 feet), bushwhack south up a ridge line to Point 9126 through an easy, open pine forest. From Point 9126, descend west-southwest to a small saddle then scramble west-southwest then west straight up the forested slope (semi-open in sections) to reach the ridge crest at Point 9761. From Point 9761, begin a somewhat tedious forested ridge traverse (narrow ridge with lots of ridge trees and blowdown) without much visibility to reach a high point (Point 9720+) then descend west down an obvious ridge to reach a final saddle at the base of Peak 9855.
From the saddle, bushwhack west up a ridge (forested with blowdown) to reach a flat ridge area. Continue west, dropping a little in so doing, to do a final uphill slog on a narrow, clogged ridge crest to reach the cairned summit of Peak 9855. But the cairn is not on the high point. With limited visuals due to the forest, it looked like there was a higher point farther northwest and there was (10-15 feet higher, 100 yards or more away from the cairned point). This is the true summit of Peak 9855. The true summit is a rocky area amidst the pine forest.
South Ridge, Class 3
The Descent
From the true summit, follow the forested ridge line east-southeast then east to the east end of the flat area encountered on the ascent. From here, the south ridge is visible and is well-defined. Descend the rounded ridge as it descends south then southeast to Webber Creek. There is loose talus/scree up high initially then a magnificently easy open pine forest for several hundred feet. But that joy soon ends and the ridge section from about 8,600 feet to 8,100 feet is rough: steep, loose talus/scree plus rocky outcrops and ridge towers. The downclimbing and maneuvering required here is most certainly of the Class 3 variety.
Once below this rough section, the forest reemerges but is a bit tedious with blowdown. Thankfully, the descent is rapid and you quickly reach the valley floor and the Webber Creek Trail. Follow the narrow, up-and-down trail for about 4.5 miles eastward to the Webber Creek Trailhead and your parked vehicle. Please note that the USGS map shows the trail crossing [sizable] Webber Creek twice near the trailhead. That is not true. The trail remains on the north side of the creek and never crosses it. Thank goodness.
Mountain Range: Beaverhead Range
First Ascent Information:
Other First Ascent:

South Ridge —Descent

Year:

2020

Season:

Summer

Party:

Livingston Douglas
Longitude: -112.77669 Latitude: 44.37409
Share this post ...