Elevation: 9,997 ft
Prominence: 417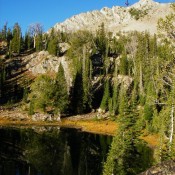 This peak is not in the book. Judi Steciak and Carl Hamke submitted the information for the first two routes found below. Steve Grantham likely made the first ascent in 2014. His route is also found below. Updated December 2018
---
This attractive Sawtooth peak sits just South of Peak 10027 and due east of Perfect Peak at the head of Cabin Creek. The peak is three feet shy of 10,000 feet, so if someone built a large cairn some might classifly it a 10er. It has 417 feet of prominence.
Here is an approach update for [(A)(3)(b)] on p. 206 that will help you get to the route: From Route 75, turn west on Cabin Creek Road (FS 207) about 1.5 miles north of the turn-off for Alturas Lake (FS-207 is no longer accessible from the Alturas Lake Road). In case the signs are missing: turn left (south) at 1.2 miles from US 75, right (west) at about 1.8 miles further, and continue for another 0.2 miles to the Cabin Creek Trailhead.
East Face, Class 2. From Lake 9,078 in the Cabin Creek drainage [(A)(3)(b)], walk up to the base of the east face of the peak. Follow a line up through a group of trees. Below the summit cone, traverse south below rock ribs to gain a small col on the SE ridge. Move west until you can gain the W ridge and then the summit. Combine this with a traverse to Peak 10,027 for a pleasant ridge walk.
Northeast Ridge, Class 2. Follow the approach to Peak 10,027 (p. 202). Descend SW ridge of Pt. 9,889and enjoy a pleasant ridge walk up the NE ridge of Pk. 9,997. Trend to the NW side of the ridge for easier footing near the summit. Descend the East Face for a loop hike.
Southeast Ridge, Class 3 by Steve Grantham 
I like to call "Penmyriad" (from the prefix "pen-"  meaning "almost" plus myriad, which literally means "ten thousand"). It's the highest peak in Idaho that is under 10,000 feet. And I think it is actually conceivable that we (my girlfriend Chris Elrod and I, and our dog Braxon) made the first ascent. of his climb of Perfect Peak, I don't recall finding any cairn or other evidence of prior climbs up there. We climbed via Cabin Creek and the SE ridge. It was mostly class 2 with maybe a little class 3 near the top.
Mountain Range: Sawtooth Range
First Ascent Information:
First Ascent Year:

2014

Season:

Fall

Route:

Southeast Ridge

Party:

Steve Grantham and Chris Elrod
Longitude: -114.917 Latitude: 43.9188
Share this post ...