Elevation: 9,942 ft
Prominence: 2,002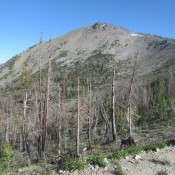 This peak is not in the book. Thanks to Victor for his contribution on this interesting and remote summit.
---
Pinyon Peak is a solitary massif in the heart of the Eastern Salmon River Mountains. It is high enough on its own merits but, due to its location on the opposite side of the Loon and Mayfield Creek drainages to the south and southeast, it gains just over 2,002 feet of prominence from its higher 10er neighbors in those directions (Mount Loening, the Tango Peaks, and the Mt. Jordan/The General ridge). USGS Pinyon Peak
The peak has an actively-manned fire lookout at the top, which means it can be accessed via one of two rough, rocky, slow 4WD roads to the top. Both follow FSR-172, which makes a loop from near the Sunbeam Mine to Camp Bradley northwest of Stanley. I've personally only driven the Sunbeam side. Leaving ID-75 between Stanley and Challis, it passes the popular Sunbeam mine over Loon Creek Summit, then switchbacks down along Mayfield Creek to the Loon Creek Guard Station and the Diamond D Ranch. The road is good for passenger cars up to this point.
A few miles north of the Guard Station the signed Pinyon Peak Road branches left steeply up a hill and immediately deteriorates. It is a long and rocky climb with several washed out areas to the summit. I was actually stopped by a snowbank in late July less than a mile from the summit. The other approach from the southwest follows Beaver and Feltham Creeks to the summit. I haven't travelled this road but heard from the ranger that it is just as rough if not rougher than the road from Loon Creek, especially as it traverses over the high ridges.
Due to the presence of the road, Pinyon Peak is probably more often frequented by 4Wheelers and ATVers relative to hikers than climbers. However, the stature of the summit and its views from deep within the heart of the Salmon River Mountains entitle it to a visit, especially if combined with other more noteworthy hikes in the area such as Greylock, The General, Mount Jordan, etc.
A random note: Due to a quirk of geography, Pinyon Peak is actually the proximate parent peak of Sacajawea Peak in Oregon, the highest peak of the Wallowa Mountains and an ultra prominent peak.
Mountain Range: Eastern Salmon River Mountains
Longitude: 114.917 Latitude: 44.5697
Share this post ...