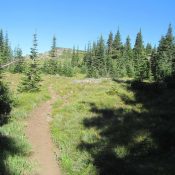 The Purcell Mountains are discussed on Pages 49-51 of the book.
---
The Purcell Mountains are primarily a Canadian range which extends south across the border into Idaho and Montana. The Idaho portion of the range is situated northeast of Bonners Ferry. The highest point in the Idaho section of the Purcells is Reno Mountain (6,779 feet) which sits on the Idaho/Montana border. Queen Mountain has over two thousand feet of prominence and is perhaps the most popular summit.
A list of the Purcell summits covered on this website are found at the following link: Purcell Mountains peaks.
Mountain Range: Purcell Mountains
Share this post ...