Elevation: 6,603 ft
Prominence: 143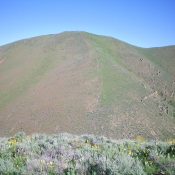 This peak is not in the book. Published December 2019
---
Red Devil Mountain is actually the lowest point on a ridge that separates Hangman Gulch from an unnamed gulch to the west. The summit offers a splendid view of Hailey, ID. This is a seldom-visited peak because it is clogged with thick sagebrush with loose scree underneath. Unlike its neighbor to the east, Hangman Peak (6,852 feet), Red Devil Mountain has no trails to the top, not even close.
The shortest ascent route is via a trail up Hangman Gulch and a bushwhack up the south face, but it's not easy. Wear long pants for this one. There is a lot of private land on and around Red Devil Mountain so be careful. Consult the Sun Valley BLM map to visualize the property lines. USGS Hailey
Northeast Ridge, Class 2
Access
Same as for the southwest ridge of Hangman Peak. This route is the final leg of a ridge traverse from Hangman Peak to Red Devil Mountain. Please be advised that much of the northeast ridge is on private land but there is no signage or fencing to prohibit entry.
The Climb
From the 6,340-foot connecting saddle between Red Devil Mountain and Hangman Peak, do a horseshoe-shaped ridge traverse around the head of Hangman Gulch then follow the ridge crest downhill and south-southwest to the clogged summit hump. The terrain on this awful ridge traverse from Peak 6852 to Red Devil Mountain is thick sagebrush with underlying loose scree. Weaving and slipping is endemic to this bushwhack. It is pretty torturous and I do NOT recommend it. There are no trails, human or animal, to assist you. You are on your own. Good luck.
And then there are the ups and downs. Oh my. Yes, to DROP a net 249 vertical feet (from Hangman Peak to Red Devil Mountain), you must climb 750 vertical feet of UPHILL. Yes, you read that right. If the terrain doesn't kill you, the ups and downs will. You will resort to a different descent route to get back to Quigley Road. I guarantee you that. And I provide you with that alternate route (the southeast shoulder on Red Devil Mountain and the Hangman Shoulder Route on Hangman Peak).
The summit of Red Devil Mountain is brushy and, to a lesser extent, rocky. I rebuilt a torn-down summit cairn among the brush (see photo). The view of Hailey and the Hailey Airport far below is magnificent. That's about the only positive comment I can make about such a worthless and insignificant, unranked (but named) point. It is rare to have a mountain name attached to the lowest point on the mountain's summit ridge. Explain that one to me.
Southeast Shoulder, Class 2+

Access
Same as for the northeast ridge. This route is the next leg of a loop route that begins and ends on Quigley Road.
The Descent
From the brushy summit, descend southeast down an obvious shoulder that leads down to [narrow] Hangman Gulch. Thankfully, the terrain on the shoulder isn't too bad. The veg is much more reasonable on this shoulder than it is on the northeast ridge. As you approach Hangman Gulch, however, the shoulder steepens considerably and is VERY STEEP for the final 150 vertical feet down to the gulch. The scree is loose and you'll be grabbing the brush to brake your fall. But it does go quickly. You should reach Hangman Gulch near a shoulder (and side gully to the left/north of it) that leads up to the southwest ridge of Hangman Peak and your trail hike home. Get a good look at that shoulder on this descent to plan your climb out of the gulch.
Mountain Range: Pioneer Mountains
Longitude: -114.30139 Latitude: 43.53959
Share this post ...