Elevation: 9,512 ft
Prominence: 160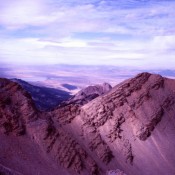 Climbing and access information for this peak is on Page 333 of the book. Set forth below is an extensive update provided by Livingston Douglas which includes three routes. His North Ridge Route is the first recorded ascent of that ridge.
---
Red Rock Mountain is located 1.2 miles NNW of Mount Jefferson and sits directly on the Continental Divide. Like Jefferson, due to the curvature of the Divide, Montana is to the south of the summit and Idaho is to the north. Climb the peak by following the Divide for 1.5 miles from the summit of Mount Jefferson. USGS Mount Jefferson
Red Rock Mountain by Livingston Douglas 

North Ridge, Class 3
Date of Climb: August 19, 2017
Access
Red Rock Pass (not discussed in the book). From Raynolds Pass, drive south on ID-87 for 3.9 miles. Turn right/west onto Henrys Lake Road. Set your odometer to 0.0. At 2.6 miles, the pavement ends. At 5.5 miles, turn right/west onto Red Rock Pass Road. At 9.7 miles, you will reach Red Rock Pass (7,140 feet). Parking is available on the south side of the road at an unofficial trailhead for the Continental Divide Trail (CDT).
The Climb
From Red Rock Pass, follow the CDT south. The CDT initially follows a narrow jeep road into the forest and then becomes a well-marked trail. Follow the CDT just over a mile, up to approximately 7,520 feet where the CDT turns right/west and begins its descent to Cole Creek. Leave the CDT and bushwhack eastward up through open forest to quickly gain the North Ridge. The ridge is well defined and is easy to follow. Unfortunately, the ridge scramble is tedious initially, as it climbs through brushy terrain in the forest. Thankfully, this difficulty soon ends when you reach an open area of stable talus.
After climbing a talus slope, continue to make upward progress on the ridge through delightful open forest. After this section of forest ends, scramble up another talus field. Finish the climb on tundra and broken shale to reach the gentle hump that is the summit of Red Rock Mountain. The summit has a large cairn and a survey marker/steel post. It offers a great view of the intimidating-looking Mount Jefferson to the south and the choppy North Ridge that connects Red Rock Mountain to Mount Jefferson.
Southeast Ridge (Descent), Class 2
Please note that the Southeast Ridge is called the South Ridge in the book (Page 333). I descended it and it is an easy Class 2 endeavor on tundra and broken scree.
Cole Creek Approach, Class 2
This approach is discussed briefly on Page 333 of the book. I descended this route, expecting it to be easier than the North Ridge Route. I was wrong. Cole Creek is a nightmarish bushwhack. There is no climber's trail, as some suggest exists. The forest and brush is thick and unforgiving. And I was going downhill. I don't want to know how awful it would be to ascend it. I do NOT recommend it. If you descend it, you will be so grateful to reach the CDT that you might actually kneel down and kiss the ground. Yes, IT'S THAT BAD.
Mountain Range: Centennial Range
First Ascent Information:
Other First Ascent:

North Ridge

Year:

2017

Season:

Summer

Party:

Livingston Douglas
Longitude: -111.5072 Latitude: 44.5766
Share this post ...