Elevation: 7,090 ft
Prominence: 1,360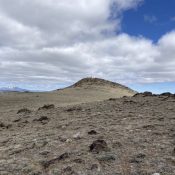 Climbing and access information for this peak is on Page 345 of the book. The information in the book is accurate. However, the road access discussed in the book has deteriorated significantly and driving to Half Moon Pass is no longer advisable. This page replaces the book entry. Published May 2020
---
Rough Mountain is the tallest peak located southeast of Toy Pass and the highest Owyhee peaks in the Silver City Range. It a special peak with hidden meadows, numerous summits, and many impressive rock formations on its lower slopes. There is a small communications facility on its summit. The 360-degree view from the summit includes the Snake River Plain, the Boise Mountains, the South Hills, Nevada's Jarbidge Mountains as well as a huge stretch of the Owyhee Mountains and canyonlands. USGS Rough Mountain
Access
From the junction of ID-167 and ID-78 in Grand View, Idaho, drive east on ID-78 for 2.1 miles. Continue straight on paved Mud Flat Road and follow it for 21.0 miles to an unsigned junction with the 2-track that runs up Lower Juniper Creek. Turn onto the 2-track. This road eventually leads all the way to Half Moon Pass. There is a parking spot for cars about 100 yards from Mud Flat Road and another for 4WDs at 0.4 miles from Mud Flat Road. After the second parking spot, the road is best suited for foot, mountain bike, or ATV travel.
South Slopes, Class 2
Follow the road until you reach a small 6,500-foot pass just east of Point 7023. There are four fences with gates up until this point. Be aware that three of the four gates are difficult to open and close because the wire is very tight. It took four of us to close the last one. The road also crosses a short section of private property as it traverse into Section 8 (see the land status map below). Currently, this piece of property is open to the public. If it is closed in the future, you can easily traverse around it.
From the small pass, leave the road and climb south up the sagebrush-covered slopes to the summit ridge above. There are plenty of game/cattle trails that can be linked together to get the through the brush. Once the top of the ridge is reached, you will spot the summit and its small radio tower. Just below the summit, there is another fence. Although there is no official gate, there is a spot where two steel posts are located close together to form a workable gate. The wire between these two posts can easily be unhooked, allowing an easy crossing. Make sure to reattach the wire. Once past the fence, it is a short stroll to the top.
Northeast Ridge/Half Moon Pass, Class 2
This is the route listed in the book. You can use this route to descend to Half Moon Pass if you are interested in climbing Half Moon Peak or want to make a loop back to the trailhead. From the summit, drop down to the makeshift gate and re-cross the fence. Follow the fence and a poorly defined ATV track northeast as shown on the map above until you reach the open slopes that descend to Half Moon Pass. The descent is steep but the footing is generally good.
Mountain Range: Owyhee Mountains
Longitude: -116.37119 Latitude: 42.75569
Share this post ...