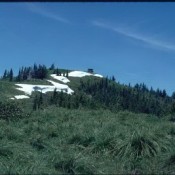 The Saint Joe Mountains are covered in the book on pages 56 to 58.
---
The Saint Joe Mountains form a high ridge line that runs 45 miles east to west between the Saint Joe and the Coeur d'Alene rivers. The range reaches its highest and most rugged heights northeast of Saint Maries, on a ridge anchored by Reeds Baldy and Latour Peak, the latter mountain being the highest Saint Joe summit at 6,408 feet. The Range was at the heart of the Big Burn in 1910. The Range sees extensive logging, has an extensive road system, beautiful forests in places and great day hiking. You easily can get a feel for these mountains by ascending  Mount Coeur d'Alene which is close to Coeur d'Alene. Geologically, the Saint Joe Mountains are made up of Belt Series sedimentary rocks, as are the nearby Coeur d'Alene Mountains. Much of the Saint Joes' contorted and complicated crest line is barren of trees due to both elevation and a great forest fire in 1910.
A list of Saint Joe Mountains peaks dound on this website can be found at this link: Saint Joe Mountains peaks.
Mountain Range: Saint Joe Mountains
Photos: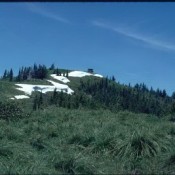 Share this post ...