The Salmon River Mountains are discussed on Pages 108-144 of the book. All Salmon River Mountains peaks covered on this website can be found at this link: Salmon River Mountains Updates.
---
The Salmon River Mountains are the second largest of the Idaho Batholith mountain groups. These mountains are named for the Salmon River, which encircles nearly the entire range, forming its boundary from Riggins in the northwest, to Salmon in the northeast, to Challis in the southeast and finally to Stanley, halfway across the range's south boundary.
Map makers have identified six subranges within this overall mountain range: Bighorn Crags, Tango Peaks, Yellowjacket Mountains, Grass Mountains, Lick Creek Range and the North Fork Range. Each of these subranges are covered in the book and on this website. Access updates are linked where appropriate on individual peak pages. You can also visit the Salmon River Mountains Access Updates page.
For orientation purposes, the book divides these mountains into 11 geographic groups. The website has one additional group, the Northeast Corner Peaks.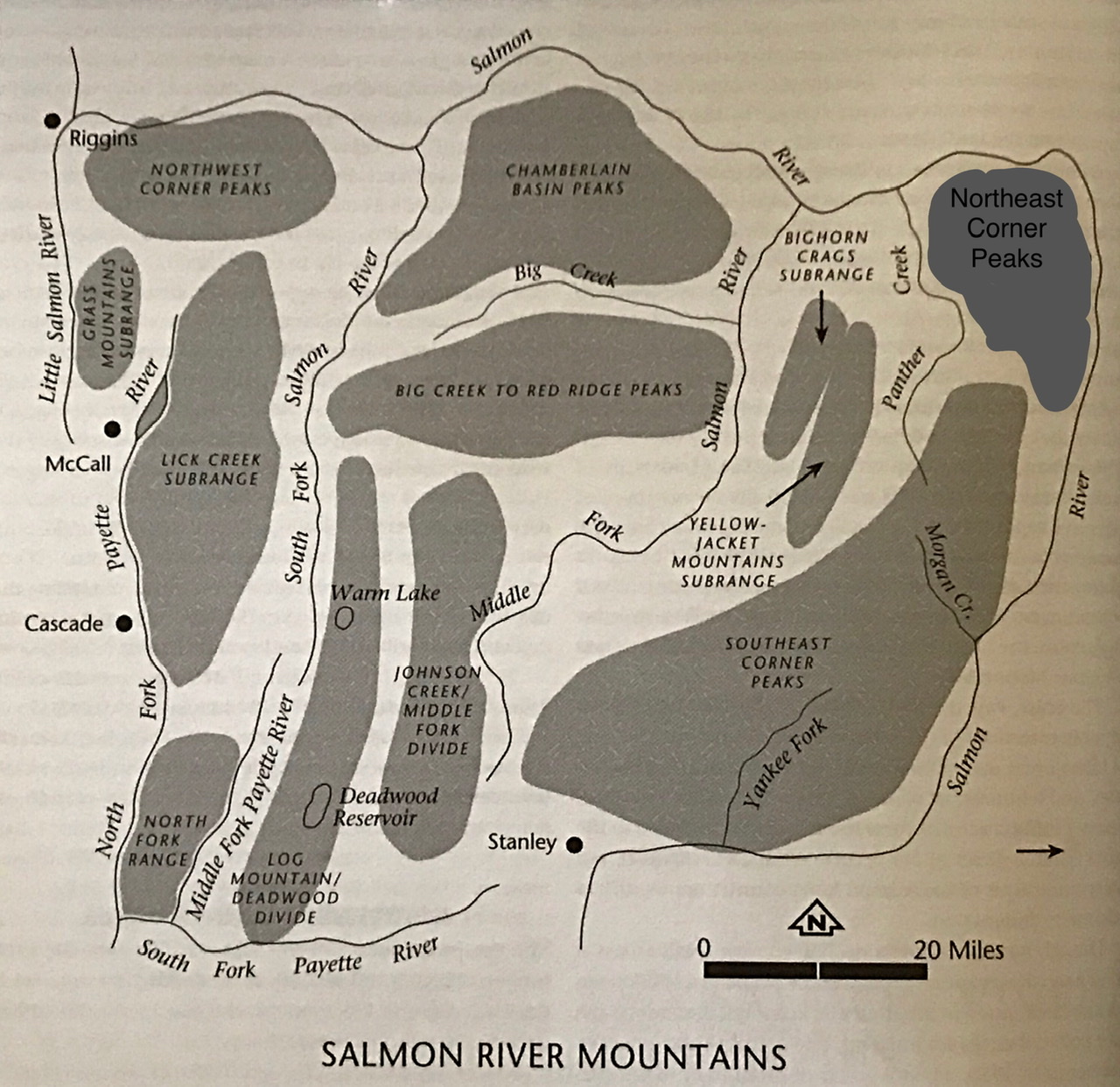 The Frank Church River of No Retun Wilderness encompasses nearly two million acres of the Salmon River Mountains. This wilderness also includes sections of the Clearwater Mountains. Forest Service FCRNRW page.
There are a multitude of varied climbing objectives in this massive range. The Bighorn Crags and the Tango Peaks in the east offer many technical climbing opportunities. The Lick Creek Range in the west also has the potential for technical routes. In between are many peaks worth hiking, some close to roads and some days from roads. Sleeping Deer Mountain and Big Baldy Peak are among my favorite destinations.
These mountains are discussed in detail on Pages 108-144 of the book.
Mountain Range: Salmon River Mountains
Share this post ...