Elevation: 9,649 ft
Prominence: 1,949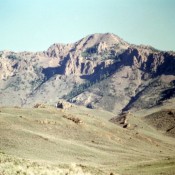 Climbing and access information for this peak is on Page 264 of the book. Livingston Douglas added the new, more challenging, routes below in addition to new photos. Updated November 2020
---
Sheep Mountain is located north of Antelope Creek and west of US-93 and the former town of Darlington. This area thaws out early and Sheep Mountain and its neighbors can be climbed as early as March without encountering significant snow. USGS Big Blind Canyon
---
Livingston Douglas Routes
Access
Same as for Peak 8909/Stani Peak. This is the final leg of a three-peak adventure from Waddoups Canyon Road.
West Gully/West Face, Class 4
The Climb
From the 8,660-foot saddle at the base of the southwest ridge cliffs of Sheep Mountain, follow a good elk trail through the thick sagebrush and follow it north then northeast to skirt the left/west side of the ridge cliffs and reach the [hidden] west gully. I could see this gully from the summit of Peak 8909 and could only hope that it would go. But at this point, I was skeptical. Bushwhack right/east up a forested shoulder to find another game trail at the base of the ridge cliffs by which to drop left/north into the gully proper.
Climb the gully (mostly Class 2 with some Class 3 sections) diagonally right then diagonally left higher up to reach the forested, slanted hillside/ramp sitting atop the imposing west headwall. Move left/north along the base of the headwall to find any weakness to exploit. You will soon find a notch/chute in the headwall. Two alternative chutes are here, about 30 feet apart. Climb the first chute (Class 4). It requires a 10-foot vertical move to get atop the headwall.
Once atop the headwall at this U-Notch, climb a miserably steep, loose talus slope to get near the summit on the narrow southwest ridge. Thankfully, the upper southwest ridge has much more stable rock than the very loose, upper west face. A quick Class 2+ scramble heading northeast puts you on the cairned summit of Sheep Mountain. This one took some work.
Descent via Left Fork Waddoups Canyon, Class 2+
Though the book claims that the southeast ridge is a Class 2 endeavor, the lower section of it looked pretty dicey to me when viewed from Point 8763 to the west. So I chose to descend the west gully/west face back to the gentle saddle at the base of the imposing cliffs on the southwest ridge of Sheep Mountain. From that saddle, descend southeast then south into the rugged upper Left Fork of Waddoups Canyon. This is no picnic and goes at Class 2+, perhaps Class 3. There is thick brush, very steep terrain, a narrow gully, and loose rock. Farther down the Left Fork, the slope eases and you will find the remnants of an old jeep road (just grass now). Cruise down this old grassy road to Waddoups Canyon Road and return to your vehicle.
Mountain Range: White Knob Mountains
First Ascent Information:
Other First Ascent:

West Gully/West Face

Year:

2020

Season:

Summer

Party:

Livingston Douglas
Longitude: -113.58598 Latitude: 43.7807
Share this post ...