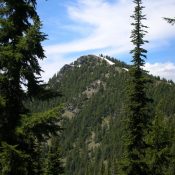 The Shoshone Range is a small, forested subrange which is tucked into the West Side of the Bitterroot Mountains northeast of Kellogg. This small, north-to-south trending range is roughly 12 miles long and 5 miles wide. It is separated from the Coeur d'Alene Mountains on the west by the Coeur d'Alene River and from the Bitterroots by Big Creek and Shoshone Creek. This tree-covered range reaches its highest point at Bennett Peak at 6,220 feet. The range has six ranked peaks and five unranked peaks.
The Shoshone Range peaks included on this website are listed at this link: Shoshone Range Peaks
Primary Access to the range is via the Coeur D'Alene River Road [(2)(a) Page 56]. This road leaves I-90 at Exit 43 (7.0 miles west of Kellogg, Idaho) and follows the wandering river northeast and the northwest for many miles. The road is designated FH-9 until it reaches Pritchard, Idaho in 22.0 miles. The road is then designated FSR-208. Continue on FS-208 from 6.9 miles to the Little Guard Peak Road FS-602. This junction is located at the south end of the Shoshone Range.
Little Guard Peak Road, FS-602. This road leads to the fire lookout on Little Guard Peak in 11.0 miles. The road is reportedly regularly maintained but the last couple of miles will require a high clearance vehicle.
Shoshone Crest Trail FST-81. This trail leaves FS-602 roughly 10.0 miles from the road's start. The trail then follows the range's crest northwest. Use this well maintained trail to access the range high point, Bennett Peak, and Pond Peak as well as two unranked peaks, Little Sentinel Peak and Sentinel Peak.
Mountain Range: Bitterroot Mountains
Share this post ...