Elevation: 11,508 ft
Prominence: 2,648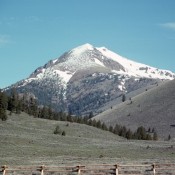 Climbing and access information for this peak is on Page 257 of the book. Updated September 2016
---
Smiley Mountain dominates the southeast end of the Pioneer Mountains. According to the Challis National Forest History the peak was "named for an early-day prospector who discovered a vein of silver, so the story goes, which was rich enough to make him a wealthy man with one mule train of the ore taken out." Antelope Creek Road and the peak's south ridge are snow-free early in the Spring, allowing for early season access to the peak's South Ridge. The climb from the road gains about 3,600 vertical feet in 4.0 miles. This is the most commonly-used route. Livingston Douglas' North Ridge Route is detailed below. USGS Smiley Mountain
North Ridge, Class 2 by Livingston Douglas 
Access
Lake Creek Trail/FST-064 [(C)(3)(d) on Page 260].
The Climb
This climb was done in combination with a ridge traverse from Peak 10995/Double U Peak and Peak 11151/The Ramp. From the Lake Creek Trailhead (8,050 feet), hike up the trail/ATV road just shy of 6 miles to the road's end in an open area west of Round Lake, on the west side of a creek with substantial flow. The elevation here is 9,400 feet. The Smiley Mountain quadrangle doesn't show the dreadful terrain that lies between you and Round Lake. Thick willows and deep marshes (plus two creek fords) block your access to Round Lake.
This awfulness also surrounds the south side of Round Lake (also not shown on the USGS quad), so circumventing Round Lake by skirting the south side of it is NOT an option unless, perhaps, you're a moose or a Bigfoot. The only feasible option is to find higher ground upstream and to traverse east from there. I cannot overemphasize how marshy this area around Round Lake is. It's really incredible.
Follow the right/west side of the stream south for 1/4 mile, gaining only 100 vertical feet in elevation en route. But that's enough to get you to dry ground. Cross the stream and bushwhack east up through easy forest, finding some small marshes and ponds up here (!) to work around. Traverse upward to tree line at the base of the prominent cliffs of the west face of the North Ridge of Smiley Mountain. You will eventually reach a large, gentle basin at 9,550 feet.
It is now decision time. From this basin, you can climb Peak 10995 to the north, Peak 11151 to the east, or Smiley Mountain to the south. Or, if you are really a glutton for punishment (as I was), you can climb all three peaks today. Let's focus on Smiley Mountain for now.
From the 9,550-foot basin, scramble south up easy scree to reach the North Ridge of Smiley Mountain. Follow the ridge south to Point 11179, skirting its east side on goat trail. Continue up the ridge southeast over Point 11420 then south to the summit of Smiley Mountain. Smiley is just a big pile of choss with a USGS benchmark on top. This is an easy scramble, but a LONG one. The scramble up the South Ridge from Iron Bog Campground is much shorter and is recommended if you are only planning to climb Smiley Mountain.
Mountain Range: Pioneer Mountains
Longitude: -113.810078 Latitude: 43.698361
Share this post ...