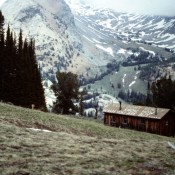 By almost any measure, the Pioneer Mountains is Idaho's premier mountain range. Its peaks are high and wild. The rock is good. The scenic vistas are terrific. The lakes are pristine. The range stretches from west to east between Ketchum and Arco, Idaho covering a distance of nearly 50 miles. At its widest, the range is nearly 25 miles wide.
The range offers a wide range of climbing opportunities from Class 2 hikes like Johnstone Peak to technical peaks like Brocky Peak, with every shade of climbing difficulty in between. The website contains many more peaks and routes than the book. The Wildhorse drainage on the range's east side offers an exceptional collection of technical climbs. Pat McGrane's "Wildhorse Classics" is the ultimate guide to technical climbs out of the drainage. Check it out!
Mountain Range: Pioneer Mountains
Share this post ...