Elevation: 5,895 ft
Prominence: 515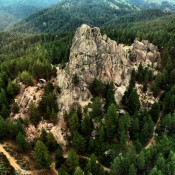 This peak is not in the book.
---
Stack Rock is an impressive granite tower that sits atop a peak with 515 feet of prominence. The tower has no easy route to its summit and there are lots of opportunities for establishing (or reestablishing) high-quality Class 5 routes on its nearly vertical walls. The tower's granite is solid with small crystals in places and some buckets. There are few small cracks to use for climbing or holding protection. Slings (large ones) will come in handy as you can use them to set anchors in many spots. The South Wall has a couple of nice-looking cracks that are obvious potential climbing lines. USGS Cartwright Canyon
Please Treat Stack Rock as a No Bolt Area
Below you will find a bit of the tower's climbing history that I have uncovered, photos, access information and a link to the Standard Route page.
Although Stack Rock is visible from Bogus Basin Ski Resort, until recently it was nearly impossible to reach because private property blocked the more reasonable approaches. I am still tracking down information on the first ascent and technical climbing routes on the tower.
Stack Rock History
In 1922, Stack Rock was called Castle Rock in an Idaho Statesman article. See Before it was Stack Rock. I still have a lot of leads to follow up. However, it is clear that in the early 1970s, Boise climbers put up a lot of routes on the tower. Bob Boyles provided the following information:
Yes, we climbed several routes on Stack Rock. On the West Side, there's the
standard route, a 2-3 pitch 5.6 (old school) climb. We did a couple of other
harder routes but as I recall they are all only single pitch. We didn't take
a camera so I don't have any good shots of the place or I could point out
the routes. The best thing to do would be to take me up there and I can show
you the easiest way up. I think it's more like Class 4. I do have a 100-foot
single rope if we felt we needed it. As I recall, it's a bit exposed.
Tom McLeod climbed up there during that same time (1973-1975) and put up a
couple of climbs that were probably pushing the 5.10 range. To my knowledge,
they have never been repeated.
Frank Florence used Stack Rock for climbing classes back in the 1970s. Frank provided the following information:
It's a readily-accessible crag at which to practice scrambling and rope work on easy Class 3, Class 4, and Class 5 routes. Back in the day, a couple of weekend romps over there in the Spring and we were ready to take on the Sawtooths. We all did various routes in the 1970's but even before I started climbing there in 1972, Kim Donlevy and I think Tom Naylor, as well as a few others then involved in the Boise climbing community, climbed Stack Rock. I also remember meeting a troop of Boy Scouts that first year who were using the place for rappelling practice, so it was hardly undiscovered, even then. Between 1972 and around 1976, I climbed a number of different routes there, most with Gary Smith, but don't know if any were ever first ascents.
The most difficult 2 lines I recall were, I think, the ones on the East Side. Maybe my orientation is off, but I'm thinking of a section right off the ground that had a roof route. One route went up the left corner, then the climber reached out and grabbed holds overhead and traversed out right. The roof has a crack above it; I remember camming a horizontal Forrest Titon in it, falling, and then feeling mildly surprised that the piece had held me. Another route or variation went more or less straight up the left-side corner . One summer (1974 or 1975) there was a rattlesnake living in the crack there. We decided to forego climbing that side for a season. I'm not aware of anyone who kept track of different routes out there. The two folks who might be best to ask would be Tom McLeod or Charlie Crist. For a while Charlie was interested in outcrops at and around Morse Mountain and I think he scoped out Stack Rock as well.
A few other details: the longer West Side Route you and I climbed was perhaps the most popular on the crag. As I recall, it also had variations on either side (really, short boulder moves). Also, the route I mentioned that I fell off of was first climbed cleanly by Tom McLeod. I made one of the early ascents, but not the first. And I think I was up there with John Platt one of the days we encountered the rattlesnake in the left-side crack.
Here's what another veteran climber, Curt Olson, had to say about Stack Rock:
"Stack Rock. I remember and have old photos of so many trips out there. Remember those ski tours too! Mountain Guides, Inc. (MGI- the climbing school I owned in the 1980's) took classes out there to teach the basics of staging multi-pitch belays. West and North Faces were where we spent most of the time. Lot' of top-roping from different ledge systems too. I know when I first climbed out there with Frank, Lew, you and others in the 1970's, mountain rescue had placed 1 or 2 old bolts on top and had used the place for litter evacuation training down the North Side. Was I with you when we reached up and found a rattlesnake telling us to back off?"

"I'm sure I have old photos out there from the 1970's. Goldline 7/16" rope, mountain boots (then EB's), knickers, rugby shirts and bowline-on-a-coil were standard fare. I remember stinging lichen blowing into the eyes while scrapping for hex and piton placements in those sandy, flaring worn-out cracks. Might be fun to pull out old photos. I was out there last year on a long run and kind of re-lived the previous visits. Scrambled up the Southeast Ridge and noticed it hasn't been all bolted up like the other spires around that elevation like on the North Side of Mores (rock too sketchy for hard face climbs or too far a walk perhaps?). I was out there belaying Dan McHale when he top-roped a fairly hard face route on the North Side. It's going to be really difficult if Tom's looking for FA info. Much like the Cliffs, old pins found from a prior generation."
Although there is a Class 3-4 route to the summit, the route is not obvious when looking at the East Side of the rock. Nevertheless, I suspect that the majority of people who reach its summit climb it without a rope. Click here for the Standard Route page.
Stack Rock Access
Thanks to Boise City's land acquisition program and a generous donation by a private land owner, you can now access the peak without trespassing concerns. There are several ways to access the peak. I approached the peak from the Bogus Basin Road. Park 10.5 miles from the start of the Bogus Basin Road at its junction with Hill Road. There is a large pullout at this point with room for several cars on the East Side of the road. Carefully cross the busy road at the east end of the concrete barriers. You will find a decent trail at this point. Follow it left and down into North Fork Daniels Creek. The trail loses 300 vertical feet before you hit the North Fork Daniels Creek Trail which is part of the Ridge-to-Rivers Trail system. Turn right and follow this excellent trail uphill. Eventually you will reach the trees and a junction. Turn left at this junction and then left at the next junction and you will arrive at the tower in 3.5 miles.
The Ridge-to-Rivers Trail system (see link below) also has an approach from the ski area as well as Hidden Speings. Note that the 2014 trail map does not show the trails I described above. Also, there is another access point at around Mile 13 on the Bogus Basin Road. I will hike it soon and add details when I have them. Finally, the excellent 2012 book, Boise Backcountry Adventures by Sandy Epeldi with Dave Nevins, covers most of the trails in this area and is a highly-recommended resource.
Mountain Range: Boise Mountains
Longitude: -116.16379 Latitude: 43.75209
Share this post ...