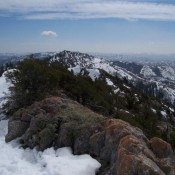 The Sublett Mountains extend from the Snake River Plain south almost to Snowville on the Idaho/Utah border. From the surrounding valleys, the range resembles a low grouping of rugged hills. This range is much more complicated and diverse than it appears from the valleys. The range is a meeting ground between the Great Basin and the Snake River Plain.
The highest point in the range, Peak 7492 (Roy Peak), is not officially named. Cedar Creek Peak (7,464 feet) is the highest named summit. In addition to these two peaks, there are five other peaks that reach above 7,000 feet including Heglar Benchmark (7,400 feet), Hartley Mountain (7,456) and Quaking Aspen Mountain (7,230 feet). The Subletts are yet another product of Basin and Range faulting. Most of the range's rock is sedimentary but in places younger volcanic rocks are found on the surface.
The Sublett Mountains, one peak and two access points are briefly discussed on Page 353 of the book. Private property complicates or closes of access to some parts of the range. Rick Baugher has climbed more Sublett Mountains summits than anyone else.
Use this link to read about the Sublett Mountain summits included on this website: Sublett Mountain Peaks
Ralph Maughan describes the range as follows: "This Idaho range rises out of the Snake River Plain and runs southward to about the Utah border. It is not especially high, and has the narrow ridgelines so typical of a Great Basin Range. It is somewhat unique in that is nota narrow linear N/S range, and it is high dissected — many lesser ridges and canyons, giving one inside in range the impression of being in a much larger area. Although it is somewhat overgrazed, it is well vegetated compared to many nearby ranges, especially to the south. Some portions have beautiful wildflower displays in late May and early June."
Mountain Range: Sublett Mountains
Share this post ...