Elevation: 6,345 ft
Prominence: 365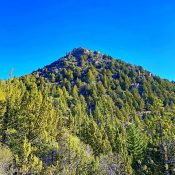 This peak is not in the book. I have included Brett Sergenian's trip report for another take on reaching the summit of this interesting peak. Updated October 2021
---
Sugar Loaf is a distinctive, rugged, conical-shaped summit, that is located on the east side of the Silver City Range in the Owyhee Mountains. It is also WNW of Bald Mountain. The summit is the high point on a ridge that runs east from the main ridge crest. This ridge divides Horse Ranch Creek to the north from Stobie Gulch to the south. The granite-encrusted summit block requires short Class 3 climbing. USGS Silver City
---
Access
Access is from the Silver City Road [(A)(2) Page 346]. Follow the Silver City Road toward Silver City for 16.9 miles. Park in a wide spot on the north side of the road.
West Face/South Face Traverse, Class 3
As shown in the map below, we looped over the summit. In retrospect, I recommend climbing the peak via our descent line. In either case the portion of the route between the road and Stobie Gulch was straightforward and mostly brush and downfall-free. At some point in history, the lower portion of descent to the bottom of the gulch was logged and this has left the slope semi-open with lots of game trails paralleling the fall line. Interestingly, there are no logging roads to the area logged and it is not clear how the loggers removed the wood.
The ascent from Stobie Gulch followed game trails in places and encountered some brush before reaching the saddle below the peak's west side. From this point, our line climbed around and through brush to the base of the summit block and a notch on its northwest side. We ascended a 30-foot wall out of the notch to reach the airy summit.
We descended off the summit's southeast side, downclimbing down-sloping granite slabs for roughly 100 feet. After the downclimbing the slabs, we descended the sandy, mostly open, pine-covered slopes to Stobie Gulch.
We measured the loop with three different GPS devices and, of course, got three different measurements. Thus, I averaged the three readings. Round trip, we covered just over 3.0 miles with 1,600 feet of elevation gain.
Brett Sergenian Trip Report
I started my climb at the at the intersection of the Silver City Road/Bald Mountain Road junction. Descend 600+ vertical feet to Stobie Creek from Silver City Road before heading uphill. There are not too many obstacles for the first 900 vertical feet if you head straight uphill southeast of the summit. If just east of the summit, make your way to the south side of the Sugar Loaf to find the easiest route. With snow, I had to use my hands but I would rate it Class 2+ or Class 3. With no information ahead of time, I wound up ascending the north side of the peak, which was mostly Class 3 with one Class 4 move due to significant exposure. Without snow, the east side of the peak could be doable at Class 3 or Class 4. The views are pretty good at the top with great views of Hayden Peak, War Eagle Mountain, and Slacks Mountain.
Also, use the link below to read Brett's entire trip report.
Mountain Range: Owyhee Mountains
Longitude: -116.70401 Latitude: 43.05109
Share this post ...