Elevation: 10,512 ft
Prominence: 452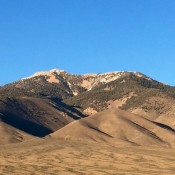 This peak is found on page 310. A new route is added below.  Updated May 2019
---
Sunny Bar Peak is seldom climbed despite the fact that an ascent to its summit is a quintessential Lemhi Range climb. The route described in the book climbs the south ridge from Fallert Springs. Please note that although the route is rated Class 2 you could encounter some Class 3 moves depending on how you choose to climb the summit block. I climbed the peak vis it's southwest ridge in March of 2015. The new route is described below.
Southwest Ridge Route. Class 2.
The peak's wandering and complicated southwest ridge is best accessed via the Rocky Run Creek drainage. A four wheel drive with high clearance is necessary to drive this road. 15.3 miles north of Howe, a County Road leads from the Little Lost River Highway (formerly the Pahsimeroi Highway) to the start of the rugged, steep two track road that leads into the canyon. It's 5.4 miles from the highway to roads end.
Once inside the canyon you will find a sign announcing "Rocky Run Creek." There are two spots here that are level enough for small tents. The road continues up the canyon gaining another 500 feet of elevation to a spot where it crosses the creek. Park here at 7,100 feet. You may find a spot in this area level enough for a tent.
From this point, you will see a broad rib descending toward you from the southwest ridge. Ascend this rib as you climb up you will start finding game trails. Some exceptionally well developed. You can either continue to climb the thousand plus feet to the top of the ridge or start contouring up toward the right on one of the many elk trails you encounter. In any case, you need to get to the top of the ridge at some point before you reach the 8,200 foot contour. From this point the ridge is well defined as it jogs north for a bit and the turns northeast toward the summit. At time you will find good elk trails leading you up and at other points the trails zig-zag across the ridge.
At the 8400 contour there is a rocky formation blocking the ridge crest pass it on its north side by side billing across a talus field. Continue on up the ridge to tree line where you will find another Rocky section that is also passed on its north side. The summit is just above this point.
Mountain Range: Lemhi Range
Longitude: -113.08229 Latitude: 44.05169
Share this post ...