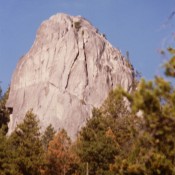 This Salmon River Mountains subrange is found in the range's extreme southwest corner above the confluence of the North Fork Payette River and the Payette River. ID-55 and the North Fork Payette River form the subrange's western boundary; the Middle Fork Payette River form the range's rather indefinite eastern boundary. The Warm Lake Highway is the northern boundary; the Payette River and the Banks/Lowman Highway mark the southern boundary.
The range stretches 40 miles from north-to-south between Banks and Warm Lake and has a maximum width of 10 miles. East Mountain (7,752 feet) is the highest point. With only a few named summits in the range, it is best known for Cougar Rock, a spectacular granite dome visible from Warm Lake. The range is densely forested and has a wide array of roads. The roads that penetrate the range are mostly primitive and require 4WDs or ATVs. There are occasional meadows on the crest and some of the higher peaks. The view from East Mountain is spectacular.
The North Fork Range is discussed on Pages 116-117 of the book. Use this link to see all of the North Fork Range Peaks included on this website: North Fork Range Peaks.
Mountain Range: Western Salmon River Mountains
Share this post ...