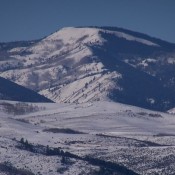 This Peale Mountain subrange forms the eastern boundary of these mountains. The range is located along the Idaho/Wyoming border, stretching 25 miles from north to south. Draney Peak at 9,131 feet is the highest point in this group. This range is discussed on Page 368 of the book.
Use this link to find all Webster Range summits covered on this website: Webster Range Peaks
Mountain Range: Peale Mountains
Share this post ...