Elevation: 11,309 ft
Prominence: 609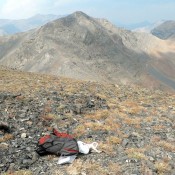 Climbing and access information for this peak is on Page 287 of the book. 
---
Wet Peak is located on the main Lost River Range Crest north of Invisible Mountain. Most ascents have started in the upper Wet Creek Drainage. Most climbers include this peak in a traverse which includes Octoberfest, Hidden Peak, Wet Peak and South Wet Peak. Use the links below to read about these traverses. See also Livingston Douglas' North Ridge Route description which is set out below. USGS Mackay
There is reliable information that the high point is not at the USGS benchmark. I have observed that it often happens that a summit benchmark is located at a good viewpoint for the surveyors rather than at the absolute high point. Thus, the true elevation of this peak is higher. Livingston Douglas made the following observation:
"I climbed Wet Peak (11,309 feet) on 7/17/16 when doing a climb of Hidden Peak, Wet Peak, and South Wet Peak (11,138 feet). I climbed Hidden Peak first, then did a ridge traverse over Wet Peak and continued on to South Wet Peak. The true summit of Wet Peak is at the NW end of the slanted summit plateau. Wet Benchmark  is NOT the high point. The true summit of Wet Peak is approximately 200 horizontal feet NW of Wet Benchmark, which is shown on the Mackay quadrangle at 11,309 feet. My altimeter indicated that the true summit is 10-20 feet higher than Wet Benchmark. The true summit is a gentle area of broken scree. The USGS Benchmark is not on the true summit because the true summit has no boulders in which to secure a benchmark. Typically, a large boulder is drilled and the benchmark is inserted into the drill hole and cemented in place. So the actual elevation of Wet Peak is 10-20 feet higher than the assumed 11,309-foot figure. Visually, it is also obvious that the NW end of the tilted summit plateau is the high point."
North Ridge, Class 3 by Livingston Douglas 
The north ridge begins at the 10,820-foot ridge saddle between Wet Peak and Hidden Peak, approximately 1/2 mile north of Wet Peak. Scramble up the narrow ridge crest to the gentle, broken-scree summit of Wet Peak. The high point is at the NW end of the slanted, elongated, ridge line summit area. It is NOT located at the [lower] Wet Benchmark shown on the Mackay quadrangle, which is approximately 200 feet to the SE. There are two USGS benchmarks embedded in large ground boulders at the Wet Benchmark location. There was no summit cairn on either the true summit or the Wet Benchmark, so I built a small cairn atop the true summit.
Mountain Range: Lost River Range
Longitude: -113.5378 Latitude: 43.9929
Share this post ...