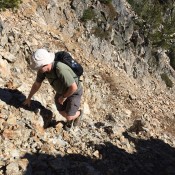 Dave Pahlas is the first person to climb all of the White Cloud 10,000-foot plus peaks. There are 50 White Cloud summits that reach above 10,000 feet. The peaks are spread out over a large swath of rugged terrain and 5 USGS quadrangles. Access to some of these 10ers and 11ers is easy, but the vast majority of the 50 peaks involve difficult and time-consuming approaches. Beyond the difficulty of getting to the peaks, there is the issue of climbing them. While a few of these peaks are Class 2 walk-ups, many require the ability to cross steep, crumbling terrain and some can only be climbed by using technical climbing skills. In the process of climbing these peaks (in my opinion), Dave made a few (if not more) first ascents and he pioneered new routes on several peaks.
Dave started his quest in 2005. He reports: "It took me just over 10 years to complete the 50 peaks in the White Clouds above 10,000 feet (2005-2015), culminating on the summit of a peak I call "Grand Finale Peak" (Peak 10340) on October 17, 2015. Along the way, I tallied over 400 miles and 80,000 feet of elevation gain in the White Clouds."
Dave's love of the White Clouds compelled him to complete the list. He states: "Completing all 50 peaks wasn't a goal at first. But after a few years I realized the target could be in reach, so I started getting more deliberate about it. As someone who is totally addicted to exploring the range, chasing the list gave me good reason to keep going back time after time." Dave calls his accomplishment "an obscure goal." I call it an impressive display of fortitude, route finding and climbing skill. It is unlikely that anyone else has ever climbed all of the 50 peaks.
Dave relates his favorite peak to look at is D. O. Lee Peak. "The hardest to climb was Chinese Wall. The most under appreciated is Mount Frank." He recommends Blackmon Peak for beginners. And of course "Best all around is Castle Peak." So Dave, what's next? "Well I may scale down my White Cloud focus to just a couple peaks a year, but over time I would like to summit all 88 peaks that are considered part of the White Clouds." Dave has crafted the definitive list of the 50 peaks on his website and there is a link to his trip report for each peak which can be reached by clicking on the date climbed for each peak:
And visit his great website for lots more:
Dave put on an impressive slide show in September. If you missed it and you are a Dropbox user, you can find the presentation (White Cloud 50) at the following link: