Elevation: 10,028 ft
Prominence: 728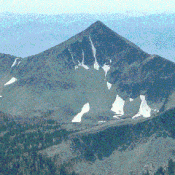 Climbing and access information for this peak is on Page 320 of the book. Michael Darcy climbed Ajax Peak from the Montana side and provided route and access information for the climb which is set out below. 
---
Ajax is an out-of-the-way summit that is well worth the effort to reach. The following information was provided by Michael Darcy. Michael passed away in 2012 after a fall in the Pahsimeroi Range. He was a friend to all Idaho mountaineers and will be missed. USGS Homer Youngs Peak
Access
Take the Twin Lakes Campground Exit 6.6 miles South of Wisdom, Montana on US-278. Travel 8.2 miles to a sign pointing south to Big Swamp Creek Road. After 8.4 miles on a good gravel road, turn right onto Big Swamp Creek Road (FSR-625). Another 4.8 miles takes you to a sign pointing to Ajax Lake. Another 3.1 miles takes you to a point where the road kicks up sharply with some serious rock in the road. If you have a 4WD vehicle and no worries, you can proceed and drive up the road and up a couple of steep, rocky switchbacks to the lake. If not, you can park below the steep kickup (2 spots) and hike up to the lake in about 35 minutes.
The Route
At the lake, look slightly to your right at the large patch of snow halfway up the bowl. This is what to aim for. Make your way around the right side of the lake on a faint trail over rocks and downed trees (20 minutes). At the west end of the lake, make your way up through rocks, boulders, scree, and scrub to the patch of snow at about 9,100 feet. At the snow patch (which was still sizable in mid-August), look off to your left for an obvious trail at about 9,150 feet that will lead you to the top of the ridge. From the west end of Ajax Lake to the top of the ridge is about 45 minutes.
From the top of the ridge, turn to your right and begin your ascent to the top of Ajax Peak. This is a 30-35 minute boulder climb. You will probably use your hands in a couple of spots, but only for balance or to maneuver. The top of Ajax Peak is a ridge line summit with a rock cairn and summit register. It offers tremendous views of Squaw Mountain, Copperhead Peak, Homer Youngs Peak, and the town of Salmon off to the southwest.
Special Considerations
Make sure to take the Twin Lakes Campground Exit and make your way west then south to reach Big Swamp Creek Road. Big Swamp Creek Road cannot be accessed directly from US-278. It crosses private land and is gated. Local information is available from the Wisdom Ranger District: 406-689-3243.
Mountain Range: Beaverhead Range
Longitude: -113.7388 Latitude: 45.3306
Share this post ...