Elevation: 10,028 ft
Prominence: 728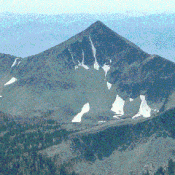 Climbing and access information for this peak is on Page 320 of the book. Michael Darcy provided the original route information for reaching the peak from the Montana side. Livingston Douglas provided the updated route information and photos. Updated November 2020
---
Ajax is an out-of-the-way summit that is well worth the effort to reach. The following information was provided by Michael Darcy. Michael passed away in 2012 after a fall in the Pahsimeroi Range. He was a friend to all Idaho mountaineers and will be missed. USGS Homer Youngs Peak
Montana Access and Route by Livingston Douglas
Montana Access
From Wisdom, MT, drive south on MT-278 for 6.6 miles to a [signed] right/west turn for "Twin Lakes Campground." Reset your odometer here. At 4.1 miles, bear left/south at a signed junction. At 8.1 miles, turn left/south at a signed junction. At 12.9 miles, go straight at a signed junction. At 13.0 miles, reach the NF boundary. The road is now FSR-945. At 16.6 miles, reach a "T" junction. Go right/west on FSR-625/Big Swamp Creek Road. Reset your odometer here.
At 2.3 miles, reach a [signed] road junction with FSR-3944/Slag-a-Melt Road (right). Continue straight on FSR-625/Big Swamp Creek Road. At 4.6 miles, reach a road junction and a road sign that states "Primitive road; Ajax Lake 4 miles." Park in a large dispersed camping area 0.1 mile past this point (on FSR-625) or continue driving up the road as far as you can. The road is rockier and rougher from here on and gets very rough for the final 0.5 mile to Ajax Lake.
South Ridge
from Ajax Lake, 
Class
3
The
Climb
From the large dispersed camping area (7,280 feet), hike 4.5 miles up FSR-625/Big Swamp Creek Road to Ajax Lake (8,522 feet). Follow a use trail (sometimes good, other times very weak) around the north side of Ajax Lake to reach the southwest corner of the lake. Look west toward the saddle that separates Ajax Peak from Don Moore Peak. Look for two snow-filled couloirs that are just below the saddle. Your goal now is to reach the saddle at the top of those two couloirs. However, going straight west at them is not a good plan. The terrain here has cliff bands to block you.
Scramble southwest up boulders to cross to the left/south side of a prominent gully. Climb up through the rock and veg of the ridge/face on the left side of that gully to reach a flatter, angled slope of talus. Head right/northwest to reach an upper talus basin that sits below the two aforementioned couloirs (see photo). Scramble west to the base of the snow-filled couloirs and climb an arete on the left/south side of the leftmost couloir (Class 3). The rock here is generally solid and you quickly reach the Ajax Peak/Don Moore Peak saddle at 9,460 feet. From the saddle, scramble north-northwest up the south ridge on stable talus (initially) then boulders (higher up) to reach the narrow ridge-crest summit of Ajax Peak. The summit has a decent cairn on it.
The South Ridge Route by Michael Darcy
At Ajax Lake, look slightly to your right at the large patch of snow halfway up the bowl. This is what to aim for. Make your way around the right side of the lake on a faint trail over rocks and downed trees (20 minutes). At the west end of the lake, make your way up through rocks, boulders, scree, and scrub to the patch of snow at about 9,100 feet. At the snow patch (which was still sizable in mid-August), look off to your left for an obvious trail at about 9,150 feet that will lead you to the top of the ridge. From the west end of Ajax Lake to the top of the ridge is about 45 minutes.
From the top of the ridge, turn to your right and begin your ascent to the top of Ajax Peak. This is a 30-35 minute boulder climb. You will probably use your hands in a couple of spots, but only for balance or to maneuver. The top of Ajax Peak is a ridge line summit with a rock cairn and summit register. It offers tremendous views of Squaw Mountain, Copperhead Peak, Homer Youngs Peak, and the town of Salmon off to the southwest.
Special Considerations
Make sure to take the Twin Lakes Campground Exit and make your way west then south to reach Big Swamp Creek Road. Big Swamp Creek Road cannot be accessed directly from US-278. It crosses private land and is gated. Local information is available from the Wisdom Ranger District: 406-689-3243.
---
Michael Darcy Photos
Mountain Range: Beaverhead Range
Longitude: -113.7388 Latitude: 45.3306
Share this post ...