Elevation: 8,653 ft
Prominence: 831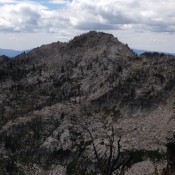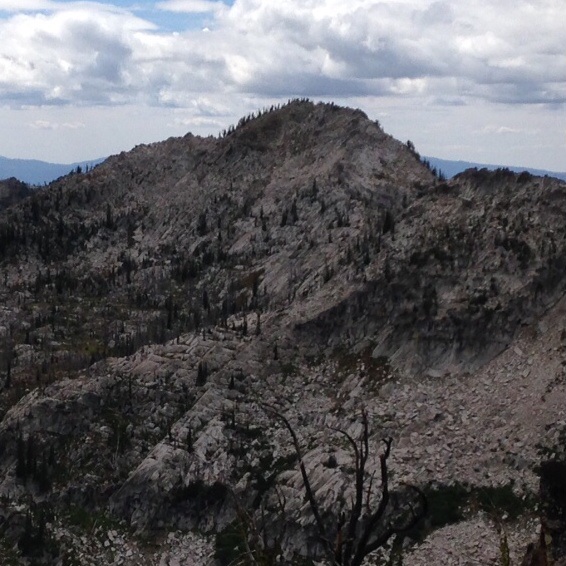 Climbing and access information for this peak is on Page 113 of the book. The recommended route in the book climbs the peak's western slopes from the north end of Box Lake. This update contains additional routes. Updated September 2021
---
Beaverdam Peak is the most impressive peak between the Lick Creek/Yellow Pine Road and the Warren Wagon Road. The peak anchors the south end of a major ridge line in the Lick Creek range of the Salmon River Mountains. From Beaverdam Peak, the ridge runs due north to Pearl Peak (Pearl Benchmark), crossing over Burnside Peak and Rain Peak on the way. USGS Box Lake
South Ridge/Southwest Rib, Class 2+
From the Lick Creek/Yellow Pine Road hike up the Black Lee Trail [(B)(3)(a) Page 136] to the pass above Box Lake. This convoluted route likely has many variations that you could follow. This is not an easy route to follow or hike. The route bypasses Pot Peak on its western side then followed the connecting ridge north until it was feasible to drop off the ridge into basin below Beaverdam's southeast face. The route crosses basin to the base of the Southeast Rib. Climb to the top of the rib and follow it to the summit. There are many places where you can lose the route and encounter Class 3 and 4 terrain.
Southeast Slopes/Southeast Rib, Class 2+
The southeast side of Beaverdam Peak is characterized by a maze of nearly impenetrable willows and downfall in its lower sections. People have ascended this slope and we descended it. I don't recommend this route. Start generally at the point where the creek draining Pot Lake meets the Lick Creek/Yellow Pine Road. Climb up to the base of the peak's southeast rib and then climb it to the top. The farther up you get the more the terrain opens up.
North South Traverse, Class 3
John Platt and Art Troutner traverses the peak from north to south. Read John's 2006 trip report linked below for the details.
Mountain Range: Western Salmon River Mountains
Longitude: -115.965507 Latitude: 45.02951
Photos: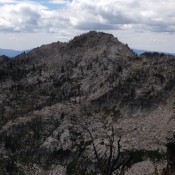 Share this post ...